The functionality of the new Activity Feeds feature introduced in CRM Online R7 / CRM 2011 Update Rollup 5 is built around the concept of following specific records. This allows a very granular level of control for the users to select the specific items from which they wish to see posts on their personal wall. However, this does also force us to carefully plan for the scenario of a new user who logs into the Activity Feeds view for the very first time. What they will have in front of their eyes is an empty wall with just a few links to the online help material.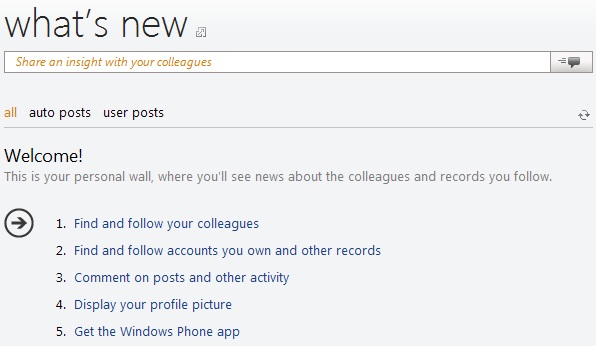 In order to make Activity Feeds a shared, trusted source of information on customer related events, the organization using Dynamics CRM needs to provide its users a path that they can follow to become a member of this community. Although it is possible to build custom business logic through the SDK that automates the following of records, wouldn't it be better if teams of users could themselves choose topics that they wish to follow, and also broadcast their posts to other users following the same topic? You know, like #hashtags on Twitter. Well, there's no built-in support for hashtags in the current release of the Activity Feeds solution, but here's a description of one possible workaround which I've come up with.
In my previous post on the topic, I covered the general process of how to enable Activity Feeds for entities in Dynamics CRM. The natural choice for supporting a team collaboration scenario would be to use the default entity Team to display relevant posts for its' users on the entity form. Unfortunately you can't enable Activity Feeds for teams, since that's not a supported entity. In fact, you cannot enable Activity Feeds for any organization-owned entities, even custom ones.
Luckily there's nothing stopping your from creating a user-owned custom entity and enabling it for Activity Feeds, so let's go ahead and create a new entity called "Group". No need for new fields, just publish the entity, then create a Post Configuration record with the same entity name (new_group or something like that). After this you'll need to go and adjust the form so that the Record Wall is directly visible when you open the form, by moving it below the first General tab.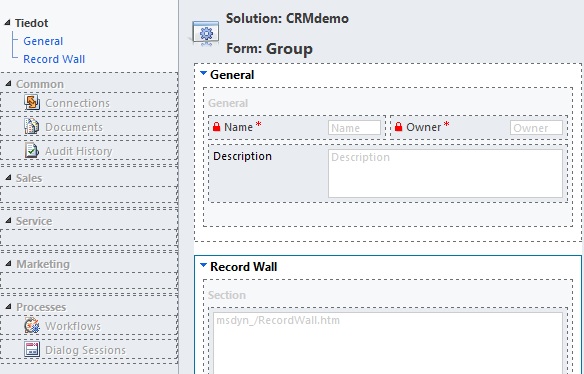 Now you're all set for starting to use the group entity in Activity Feed posts. No matter on which record's wall (or your personal wall) you're writing a post to, you can perform a mention by entering the @ character followed by the group's name. In this case I've created a group called CRM, so I'll add a mention of @CRM on an account record wall. You'll see how that turns into a hyperlink to the group record.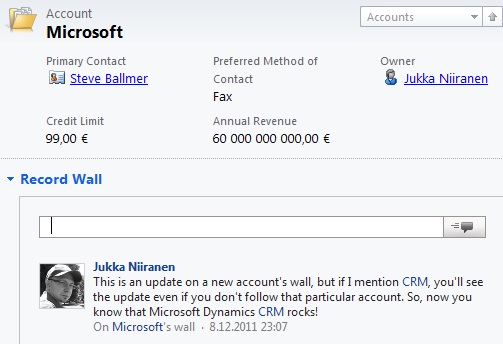 How the user's personal wall works is that it will display all Activity Feed posts that contain any reference to a record that the user has followed. It doesn't have to be the record where the post has been written on. This is what enables us to make following updates concerning a certain topic easier for the end user, as long as the posts contain a mention/link to the group record. For manual posts the users will need to indicate that they wish to direct the post to the group's followers by performing the @[groupname] mention as seen below.

So, does this mean that the mentions can only be utilized with manual user initiated posts? Absolutely not! There is a new attribute available in the workflow editor, called Post Url (Dynamics value). You can read this post on the MS Dynamics CRM Team Blog for details on how the feature can be leveraged in building workflow rules that create Activity Feed posts with mentions referencing other records. This allows us to reference multiple related records in a single post and make it appear on the personal wall of anyone who's following one of the records.
Let's say we want to create an auto post whenever a case record is created and it has the value "CRM" in the subject field, to notify anyone who's following the CRM group. Ok, so we can find a relationship to the related subject record but since that's not supported for Activity Feeds (just like teams aren't), we wouldn't be able to use it for creating a mention. Also, since the group entity we created doesn't have a relationship to the case entity, it's not available in the workflow dynamic values menu.
Should we go and create a relationship through entity customization? Well, that would be a bit cumbersome, since you'd then have to include a reference into the actual group record in every case record you wish to create a post a mention on. You'd pretty much have an additional subject lookup on the case form as a result, which is not a good solution in terms of usability (at least if you already use the default subject entity in your processes).
Luckily there's one more place on the Activity Feed post entity that you can use in the workflow: RegardingObjectId. Normally this would represent the main object of the post (such as the opportunity record which has had a state change event that triggered the post), but you're free to select a record from any of the entities that have been enabled for Activity Feeds through the Post Configuration records. So, let's proceed by creating a workflow that runs whenever a new case is created, checks if the subject is "CRM" and creates a post record with the following attributes: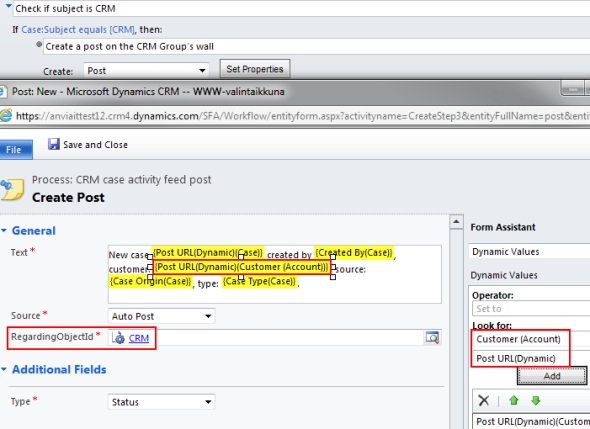 Let us now return back to the new user sign up scenario. In the beginning the personal wall is going to look quite empty and the user will not necessarily know which records he or she should start to follow, in order to get an idea of the activities going on in the system.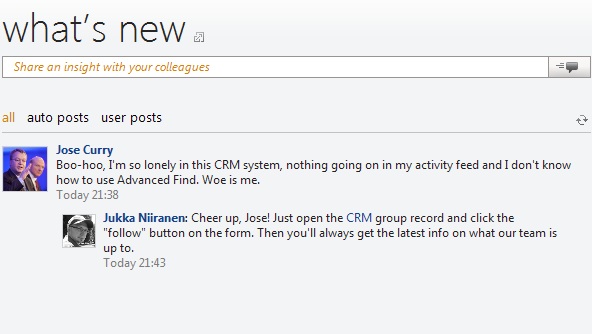 After the user clicks on the follow button on the group record, all the posts that contain a mention of the group's name will be visible on his personal wall. The user will immediately be up to speed with the latest activities around the topic of the group.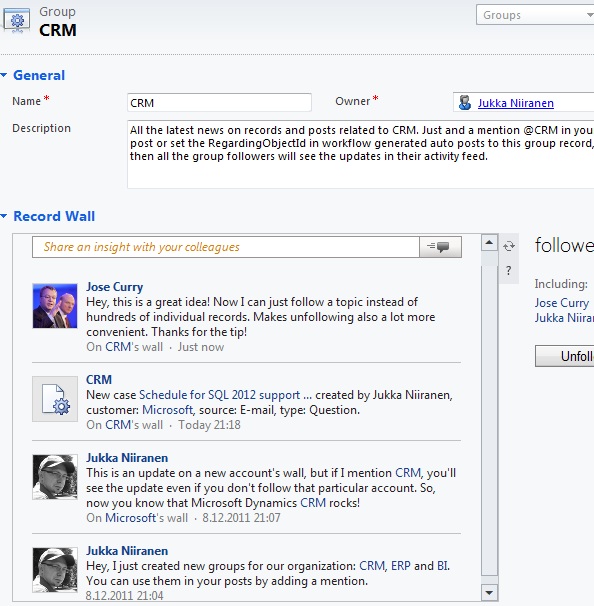 An added benefit of following groups or topics instead of individual records is that this makes it much easier for the users themselves to apply noise controls if the number of updates on the Activity Feed walls gets to high for them to keep up with. All they'll need to do is unsubscribe from groups that are not providing updates relevant to their own work. No need to start selecting accounts, opportunities etc. that they wish to unsubscribe from, or to contact the sysadmin and request an adjustment to the workflow rules that are generating low value auto posts into the feed.