As promised, Microsoft published the release notes for the April 2019 release wave on January 21st. Instead of just a high level blog post, there's a huge list of items in 16 top level categories at the docs.microsoft.com site. If you want to consume the content in an offline mode, there's a PDF version available of the same content, with 315 pages of April 2019 release notes.
315 pages? Ain't nobody got time for that!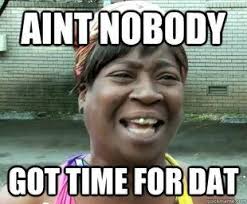 Yeah, I know. Whether you're working with Dynamics 365, PowerApps or Power BI, you probably aren't just sitting around, waiting for some work to come your way. These are all high demand technologies that pull in pretty much all of the available consulting resources into actual project work with the tools. To make things worse, the communities around them grow larger every day and flood our social streams with blog posts, podcasts, videos, webinars, conferences full of "can't miss this" information.
The problem is, though, that you haven't got all that much time to get into grips with April 2019. It may sound far away, but the preview availability of many of these features (but not all) will start already on February 1st – 10 days from now at the time of writing. What's even more important is that this time the features will be rolled out immediately to all customers, once Microsoft thinks they are ready. There's also a date available for this particular moment and that is April 5th. You've got around 2 months from preview to GA.
How should an ex-XRM pro / Dynamics 365 Customer Engagement specialist then optimize the available time to learn the important parts about April 2019 release? I've got one tip for you, which may sound unintuitive at first, if you spend your working days mostly with things that say "Dynamics". Here goes: Start reading the release notes from where it says "PowerApps":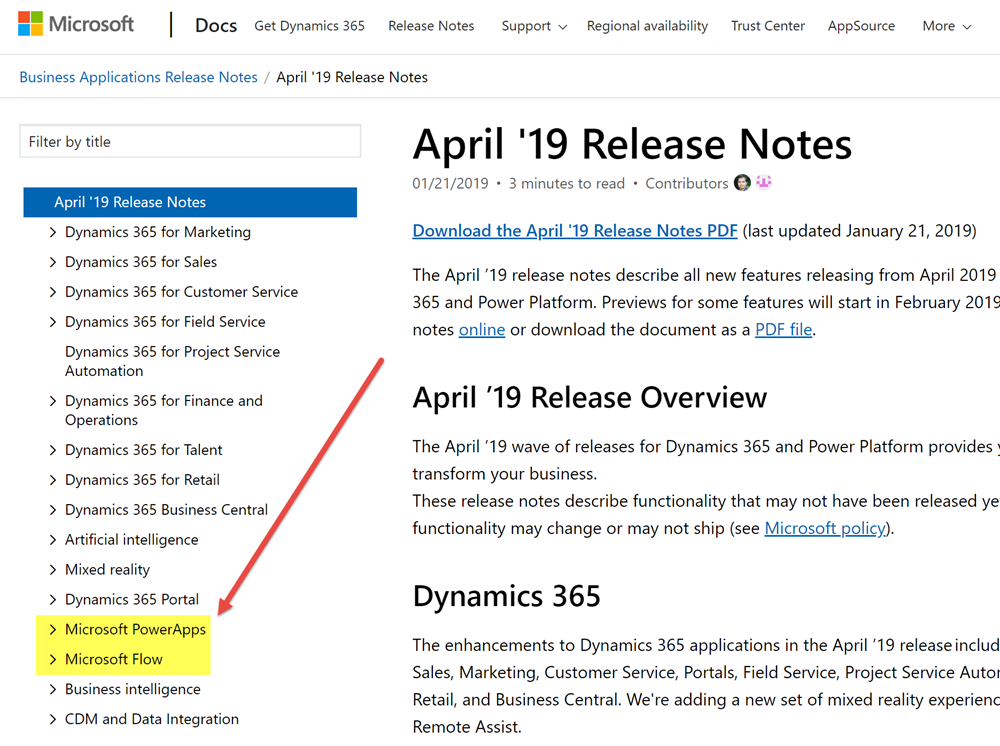 For real? Yes. We no longer live in a world where PowerApps would refer to the quickly generated mobile apps that you'd connect with SharePoint lists. It is the platform on top of which much of the "Dynamics 365 for X" products listed at the beginning of the release notes now live. Whereas each of these 1st party apps touches just those environments that happen to be using them, PowerApps and Flow are relevant for everyone. Common Data Service for Apps a.k.a. CDS is bundled within those two topics. If you're operating in Dynamics 365 Online environments, you are working with CDS.
In the PowerApps section you'll find platform and customization features like:
New form and view designers GA
Canvas app embed in model-driven apps GA
PowerApps Control Framework (PCF) preview
Unified Interface as the default UI
Offline data access
Azure AD Groups for security roles & record sharing
New tooling for plug-ins and solution packaging
Those are examples of the traditional XRM side of the house being extended under the new PowerApps brand. Microsoft Flow is equally important for any Dynamics 365 CE system customizer going forward, due to enhancements like:
Parity with CDS (XRM) asynchronous workflows
Calling XRM workflow actions from Flow
Batch operations for CDS records
Transaction support via change set scopes
Calling child Flows
Multiple trigger events
Flow parameters inside solutions
Sure, there are great new features and improvements listed for each of the Dynamics 365 apps, too. Also a wealth of opportunities for further expanding our Dynamics pro footprint in business application development on the Office 365 side (thanks to PowerApps, Flow). Not to mention the growing data integration capabilities via CDM, or the whole world of BI and big data. Still, we know that there's probably not enough time to try and absorb these things right away. Which is why my recommendation is to start by looking at what the common business application platform is forming into. Then once the preview is available, update your sandbox into the latest bits and start experimenting with these things in practice (and possibly hunting down those features that actually shipped in the preview version).
OK, I have to admit it: even I didn't dive straight into PowerApps myself, instead spent a bit of time with the full release notes document. If you want to know which items caught my eye, then you'll find them in this Twitter Moment collection.