Yesterday, January 29th, Microsoft reported on their earnings for the Oct-Dec 2019 quarter, which is Q2 in their fiscal calendar. It didn't come as a huge surprise that the cloud revenue keeps growing at an impressive pace everywhere you look. 12% growth for Dynamics products and cloud services revenue is nice, and 42% for Dynamics 365 is… even nicer!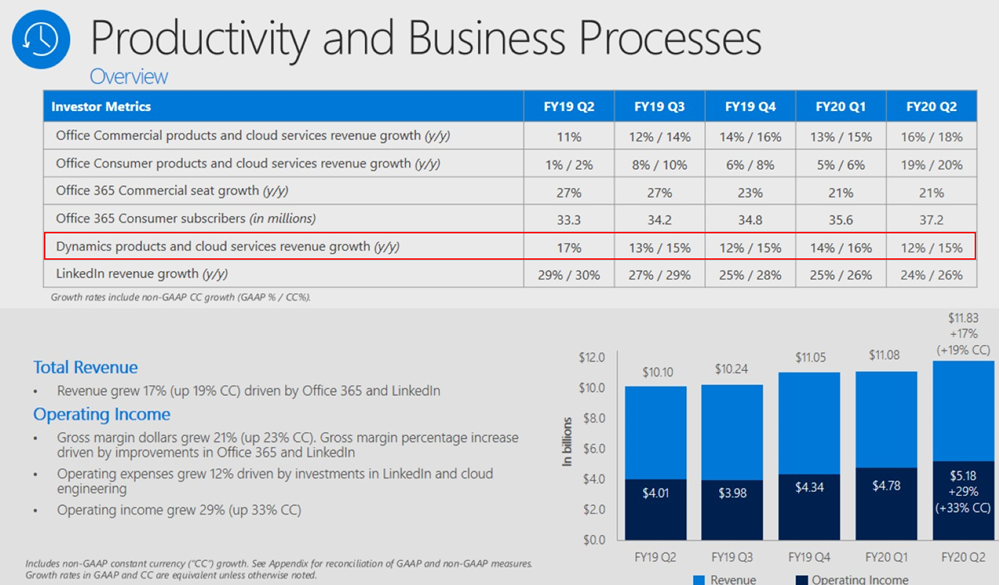 What I find more interesting than these financial numbers is the earnings call transcript, where we get the opportunity to hear CEO Satya Nadella and CFO Amy Hood describe how they see the Microsoft business evolving. Picking up the terms and products from here should give us a better understanding of not just the past (i.e. the quarterly revenue and operating income) but especially the future outlook of what the company considers to be the shining stars in its portfolio. So, in the spirit of Thinking Forward, here's a summary of what I though was relevant in that earnings call from a Business Applications perspective.
Power Platform
"We are empowering not only professional developers but those closest to the business problem – from citizen developers to business decision makers – with no code, low code tools so they can create apps and intelligent workflows that solve unique needs. Today, 2.6 million citizen developers use our Power Platform to make better decisions using self-service analytics, build a mobile app, automate a business process, or even create a virtual agent – all with no coding experience."
The new type of market for app makers that previously could have only been app users is of course a very critical area of success for Microsoft. Low-code development is one of the hottest games in town, where also other tech giants are looking to grab a seat at the table. A couple of weeks ago Google acquired AppSheet to provide no-code/low-code tools for their customers. Almost right after it, they announced that their in-house equivalent Google App Maker would be shut down within less than a year. Google cited low usage as the reason for running down App Maker, which gives us an indication that you can't succeed here merely by having just any citizen developer tool available out there.
Meanwhile, Microsoft is investing heavily into ensuring Power Apps plays nice with their whole productivity stack. Satya especially highlighted the platform effect that Microsoft Teams carries with it, so expect this to be the UI through which the broad user base will discover Power Apps and Power Automate. At the same time, Power Platform's role as the shared extensibility model for both Microsoft 365 and Dynamics 365 is also of high strategic importance:
"There's no such thing as a canonical business, and no such thing as a canonical business over time, right? Business processes change. The question is how rapidly can people and domain experts keep up with the change. And that's where Dynamics 365 absolutely shines."
Dynamics 365
Even though many XRM professionals have shifted into blogging and talking more about Power Platform these days (myself included), that doesn't mean the role of Dynamics 365 in Microsoft's product portfolio would have decreased one bit. No, of course Dynamics 365 is not "dead" – it just isn't the platform product anymore. The rapid launch of new first-party Apps under the Dynamics 365 brand is a key source for revenue growth, as described by Microsoft CFO Amy Hood:
"The Dynamics 365 excitement we have, when I think about the comment I made around adding workloads, what's so important about what Satya just talked about is how this reaches into new budgets for us, new opportunity for us in terms of being able to tap growth that we had not been able to access before."
Many of these new workloads are about going beyond what the traditional CRM + ERP suite of Dynamics 365 covered. While I suspect that we haven't yet seen much actual license revenue come in from this next generation of business applications, Satya firmly believes that the new opportunities in this field will rise out of the not-so-secret magic ingredient: data.
"We are very excited about what's happening with Dynamics 365, in particular, because when I look at what the world needs is it needs a business application suite that is more comprehensive that can turn what is the real currency of this next era, which is data, into predictions, insights, and automation without boundaries."
Customer Data Platform
Now we get to the interesting, forward looking part, which I believe hasn't yet been fully grasped by the general tech media. What specific products and technologies is Microsoft using as the spearhead for getting the message across when they talk about data and AI being brought into business applications?
"The competitiveness of every business going forward will be defined by their ability able to harness the full value of their data. Dynamics 365 enables organizations to move from reactive, siloed transactional processes – to proactive, repeatable, and predictable business outcomes. Dynamics 365 Customer Insights, that's layered and built on Azure Synapse, is the only Customer Data Platform operating at scale today."
Let's highlight the CDP part first. What is it, to begin with? Well, we don't have time to dig into the dirty details here, but in short: a Customer Data Platform is about creating a unified customer profile from a number of structured and less structured data sources, deriving new insights from it and then performing smarter (automated) actions towards the customer as a result of this. It's not a single relational database like CRM, it's more like a database of databases, ad-hoc data sources and APIs that change rapidly over time. The common use cases for CDP have mostly been in the marketing space, but the concepts and scenarios are evolving fast into other areas, too. As Satya Nadella points it out:
"There is a new category, in fact, and a new race starting with CDP, and we're leading."
Why is Microsoft so confident about being a leader in CDP already? Yes, we've seen Dynamics 365 Customer Insights being demonstrated at every MSFT event for the past half a year already, but is it really such a revolutionary application in its own? The real source of Microsoft's competitive advantage is found from within their Data Platform in the cloud, and how all the new Insights products in the Dynamics 365 family are leveraging the very latest Azure tech. Looking at the earnings call transcript and the order in which the different categories were addressed during the session, before Satya even mentions Power Platform or Dynamics, he highlights the importance of Azure Synapse:
"Azure Synapse is our new limitless analytics service. It brings together big data analytics and data warehousing with unmatched performance, scale, and security. In concert with Power BI, it enables data scientists to generate immediate insights from structured and unstructured data, and build custom AI models."
These are some of the cornerstones in how Microsoft envisions it can enable organizations to "build their own digital capability and tech intensity". You can find a recent example from the Dynamics 365 product team blog about how the Customer Data Platform story fits in with the shifts in the retail industry: it's not just about capturing the customer's email at the checkout counter but rather offering a comprehensive solution to manage signal data from social channels, chatbot interactions and even augmented reality.
So, if I were to summarize what's happening here in a simplified formula, it would be: