I have been blogging quite a while in terms of calendar time. One year ago I did some math on how much time has been spent on the blogging activity itself. This data can be found in my post "Is blogging worth it?"
The online world around me has gone through many waves of changes. The most recent one involves the term you see in this post title, which may or may not be familiar to you. I certainly didn't know about it a year ago. Today, I am making (or at least attempting to make) my first WordPress blog post that goes out into the Fediverse via ActivityPub!

To put things into context and explain what & why I'm doing, let's look back a bit on the road that lead to the rise of the Fediverse.
Humble beginnings
I started my first blog over on Blogspot sometime in 2007. That blog doesn't exist anymore, yet recently Google reminded me of the image files they're still hosting related to that blogging activity. Including this wonderful photo of the actual corner in my bedroom from where it all began: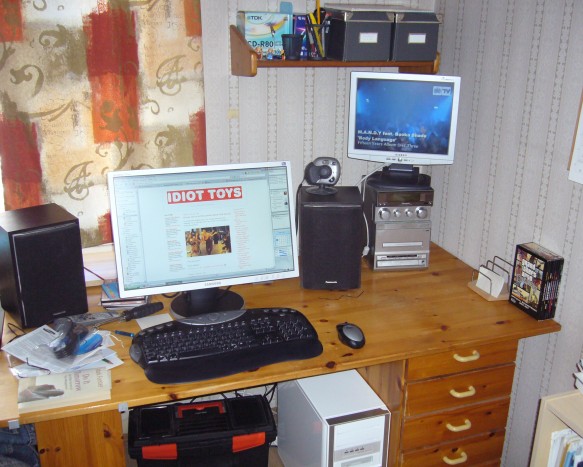 After I found the Blogspot cloud service too limited, I decided to go on-prem and install a version of Drupal on a hosted server somewhere. That site doesn't exist anymore either (at least I hope it doesn't). In 2009 I figured Drupal wasn't designed for my purposes and moved my personal blogging onto WordPress. That specific blog is still online and this is the first post I found on it:
That post's content was a surprise for myself. I would not have recalled that I had originally joined Twitter for the same reason as the masses did: to follow what celebrities around the world were sharing about their life (140 characters at a time).
A bit earlier, in 2008, I had already started another WordPress blog called "Surviving CRM" which eventually evolved into the blog you are reading right now ("Thinking Forward" at jukkaniiranen.com). The core WP enginge has remained the same behind the scenes (with countless version updates, of course) and the main contents of all the blog posts is also still available.
Everything else about the blog has changed several times (pages, topics, visual theme, plugins, features, linked services), yet fundamentally it's the same digital object that was born 15 years ago. With a few domain redirects that I put in place, you could have even started following my blog via its RSS feed back then and still today see this updated that I posted.
If someone would still be using RSS feeds, that is.
Social media boom and bust
My inspiration for starting to write blog posts naturally came from following other bloggers. The method for this was RSS ("real simple syndication"). I started trying out different feed reader software & services (like Netvibes) before Google Reader took over the feed aggregator market.
Then Google did what Google usually does, meaning killing its products. Presumably the monetization model for online media consumption based on open standards like RSS wasn't lucrative enough compared to other ways Google could turn user data into something to sell to advertisers. When the hugely popular Google Reader was discontinued in 2013, no similar feed aggregator service took its place.
The online masses turned to social media services instead. Blog posts were no longer a dedicated feed, now they were just a part of the updates presented via the social graph of users you followed. The likes of Facebook and Twitter owned this graph and realized how much more profitable it was for them to control it – rather than just showing a chronological feed and allowing users to categorize content. Enter the age of the algorithms deciding what the users were seeing.
Today, the social media as we came to know it in the golden age of Facebook and Twitter is slowly yet surely dying. I had remained an active Twitter user for over a decade, despite of the decline in organic network content and the rise of algorithm pleasing clickbaits and political outrage filling the feed. After seeing the massive damage that Elon Musk managed to create when taking over on October 27th 2022, I decided to stop posting new content on Twitter on November 18th.
I knew that the things which had been broken in the process, primarily user trust and the sense of community, would be unlikely to ever get fixed again. To make it easier for everyone, Musk eventually decided to kill also the Twitter brand and replace it with X. That cross shape is a very fitting symbol for the graveyard where the blue bird was laid to rest.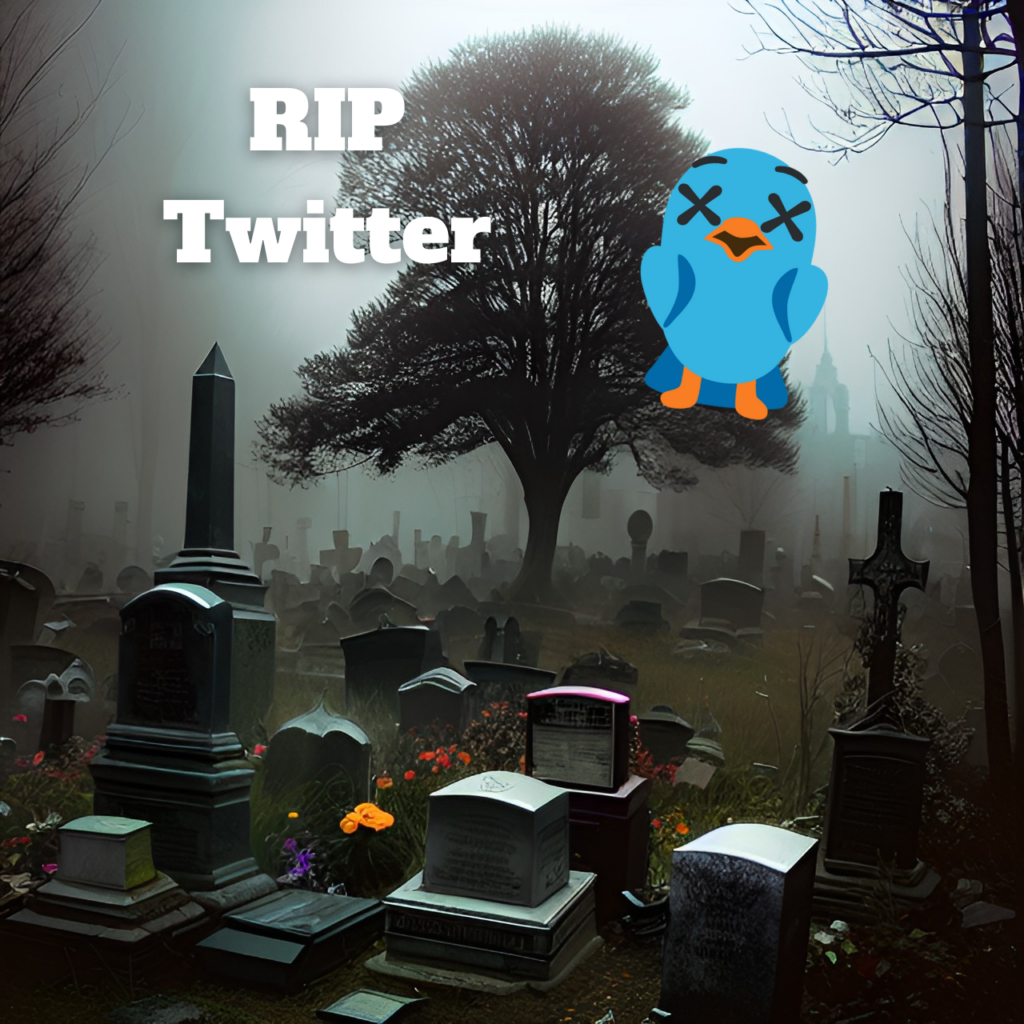 I'm kind of happy to see this, as it draws a clear line between what Twitter was and what its new owner wants it to be. I wouldn't want my online identity to be associated with the latter one. No, I haven't deleted my account nor tweets, because I also don't believe in changing the world by erasing the past. We can only move forward in this life.
What comes next?
Just like there wasn't a new Google Reader to take over the service that was killed, I don't believe there will be a new Twitter to take the place of what is now called X. Sure, many will be attempting to build the exact same thing, including the earlier Twitter CEO, or the established social networks like Instagram and TikTok.
"Insanity is doing the same thing over and over and expecting different results." So what if some new mobile app comes along and captures the market share for the time that we used to spend on Twitter? The chances of history repeating are high, thanks to the natural life cycle of online platforms that leads to enshittification.
"Here is how platforms die: first, they are good to their users; then they abuse their users to make things better for their business customers; finally, they abuse those business customers to claw back all the value for themselves. Then, they die."

Cory Doctorow on "Tiktok's enshittification"
The early days of blogging did not provide everyone an easy onboarding experience nor an streamlined UX for casual content consumption. Yet there was none of this shit. In exchange for all the convenience and endless dopamine shots that the global, proprietary online platforms give us, they will also serve you an ever growing daily dosage of shit on a golden plate.
At the same time, blogs haven't technically gone anywhere. No, you'll never have every TikTok user create their own blog. That is not the goal because there is no one to set the goals but us. If you're like me, you never even set any goals in life to begin with.
As long as there is a sense of community being established and ideas are exchanged between people who you wish to interact with – that's a pretty good life to live online.
Yet not everything can be a blog post. We can't pretend to be professional journalists working for major newspapers, writing formal and polished walls of text as the only means of communicating with the outside world. The idea behind social networks isn't fundamentally broken – only the business model that leads to their inevitable enshittification. What was once commonly called "microblogging" in the distant past has certainly proved its value in the act of idea exchange and information dissemination through peer networks.
Once I realized that Twitter was over for me, there was a proper incentive to think about what other tools are there for this type of communication. I saw my network exhibit interest in Mastodon and decided to give it a go. I managed to get past the infamous "pick a server" question, created my user account, searched for other interesting accounts to follow and gradually settled in. Today, it feels like a very natural home for one of my many online identities.
Mastodon has around 2.1 million monthly active users. As such it won't be a threat to any of the networks run by publicly listed tech giants. Also many VC funded startups in this market may well be able to burn cash for user acquisition in ways that Mastodon will have no possibility to match – by design.
In the end, it's a decentralized social media platform that no single deranged billionaire can acquire. It's just a bunch of regular folks running a few servers that facilitate the federation of user feed content between them. There are no ads to be found in Mastodon feeds because the whole concept does not exist in that technology. Content isn't shown to users based on any algorithms because again, that's not a thing in Mastodon. In both good and bad, what you follow is what you get.
Hello ActivityPub
RSS is a protocol. Twitter at some stage talked about their ambition of becoming a protocol for the internet, but quite obviously they didn't move into that direction. Now, ActivityPub that powers Mastodon and much of the Fediverse is an official web protocol with a W3C stamp on it. It has also gained interest from commercial players like Meta and WordPress.
Protocols are cool because they are not dependent on any single organization. You can send email from your Microsoft 365 Outlook to a Gmail address and all of the core message content will be similar in both services. The UI, the features and the email experience in general can be different (especially with both MS and Google "reimagining" office applications with their own flavor of generative AI). You can innovate on product development and also the commercial model while still preserving interoperability with other services that use the same protocols.
So, if ActivityPub is the thing that allows you to both read and publish content on a social network like Mastodon, how does it relate to blogging? Is it just like Twitter you still had to tweet out the links to your new blog posts and make them visible to the followers of your Twitter profile? Well, it's a bit different – and it's also still very much work in progress.
In March this year the ActivityPub WordPress plugin was acquired by Automattic, the folks behind WordPress.com (and also Tumblr). Presumably the experience will become much more integrated with WordPress in the future, but we can already deploy the ActivityPub plugin on our self-hosted WP instances. Here's what the settings look like on the admin side for my blog: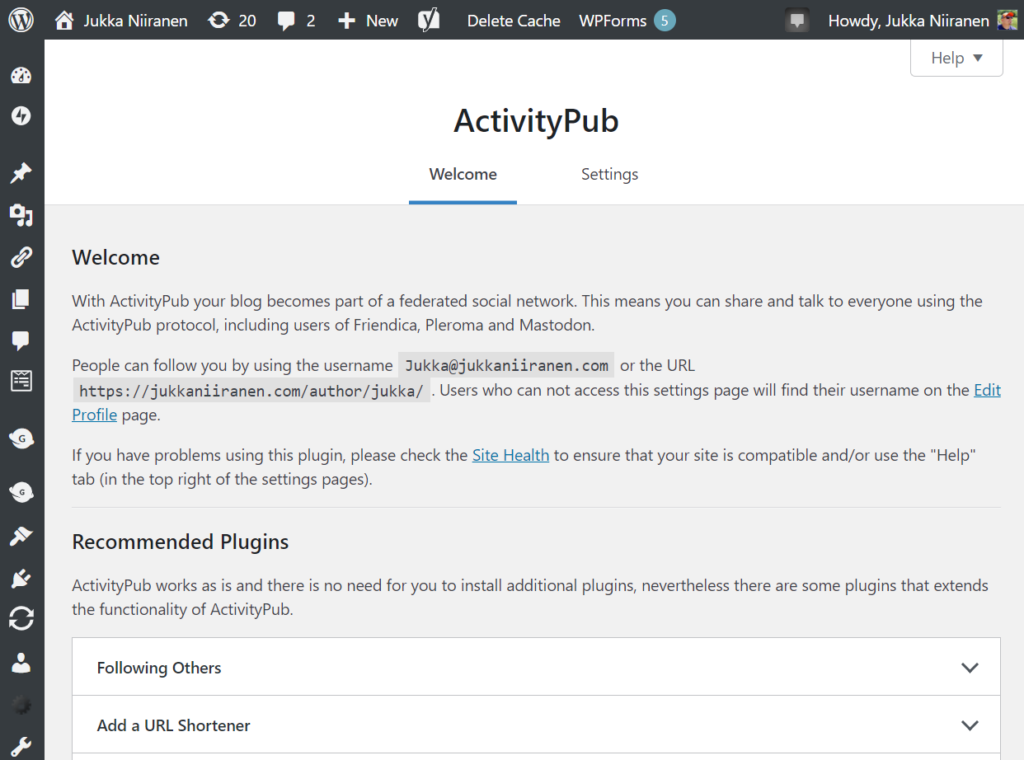 "People can follow you by using the username [email protected] or the URL https://jukkaniiranen.com/author/jukka/"
What's that all about? It means that when using a service like Mastodon, people can find this blog by searching for "[email protected]". As an example, when using the Elk web client for Mastodon and logging in with my @jukkan account, I can perform this search in the app and land on a profile that represents my blog. It's an independent thing on the Fediverse that users can follow, even if they don't care about the rants I post on my "main" profile and just want the long-form content like this blog post.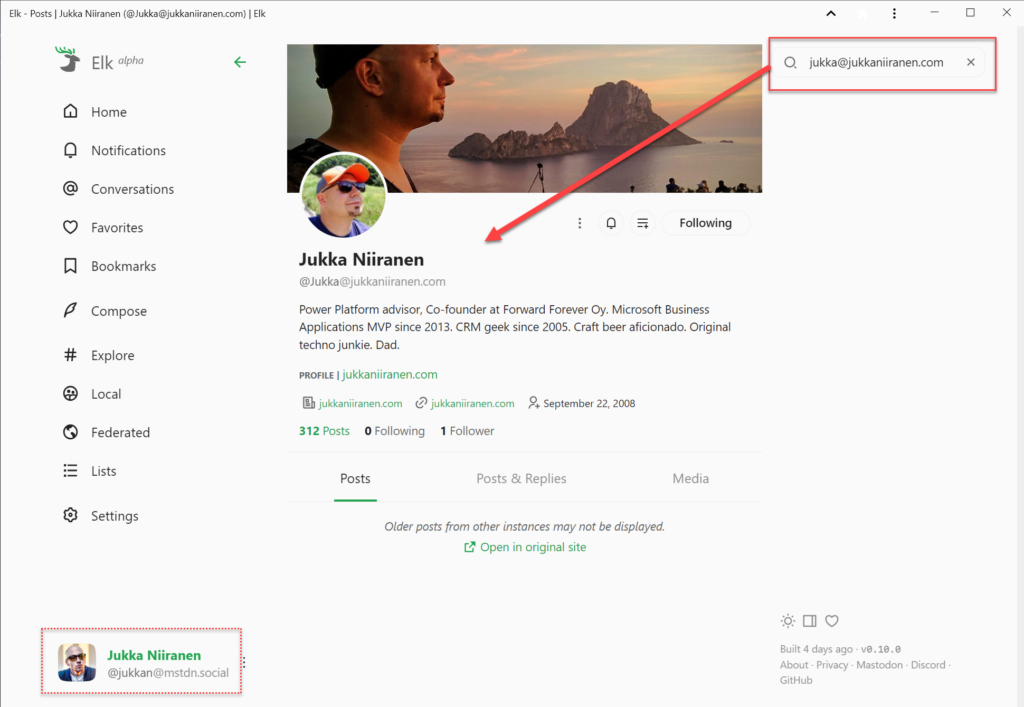 It's kinda cool and confusing at the same time. Which is a lot like setting up a blog was 15 years ago, or what Twitter was in 2009 when I signed up for it. That's part of the reason why I'm excited about the recent rise of federated online services. You don't have to be a geek to start using them, but it definitely helps.
Is ActivityPub the replacement for RSS then? I don't quite see it that way today. However, for the majority of the current online population who have never subscribed to an RSS feed to begin with, I see a lot of potential in this new protocol to revitalize the social web. To take back control from the mega platforms that are doomed to follow the path of enshittification. To spark up new innovation in both the established web players (WordPress, Mozilla, Medium etc.) as well as make room for new projects to find an audience outside the walled gardens of X, Facebook and the likes.
Things won't magically become better with decentralization. Sustainable business models or consumer grade UX aren't easy to come by with no direct ad revenue. If the popularity of a decentralized service grows, many problems like content moderation or infrastructure scaling will certainly be as hard as on the centralized side. From Twitter to Mastodon, from Instagram to Pixelfed, from Reddit to Lemmy, from YouTube to PeerTube – if the same people move from one technical platform to another then so will the problems caused by people.
We should not stop moving, though. We should not accept that the one party who holds the most data (generated by the users) gets to decide on the rules. We may not be able to avoid using many closed systems with ad revenue based business models. Yet we must ensure that our content is not captive inside only such systems.
Evolution is all about competition, about having a choice. For us users of the web to have that choice, we must A) use the power of owning our content, and B) put in the effort to learn and support new tools.
The best time to start a personal blog was 15 years ago. The next best time is now. The best time to join Mastodon was before the Bird died. Today is another fine day for it. Learn about it from Fedi.tips and follow me (@jukkan) and this blog (@Jukka) if you get there!