Today I received the following email: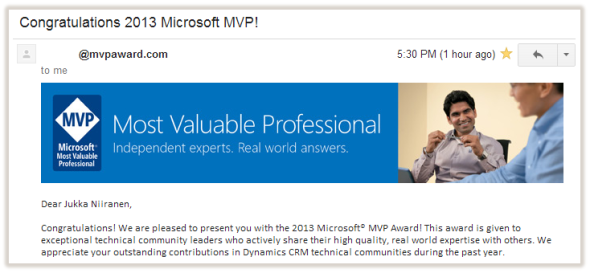 Wow! Quite an honor, I must say. Not so much for the MVP badge itself but for being recognized alongside all of the brilliant minds that have received the Microsoft Dynamics CRM MVP award before me. Thanks especially to fellow MVP Gustaf Westerlund for nominating me for the award! Also, it's nice to notice that all of the sarcastic remarks I tend to make in my posts while explaining the do's and don'ts of the Dynamics CRM product have not permanently angered the folks at Microsoft to put me on their blacklist 😉
It's great to receive recognition from the makers of Dynamics CRM of course, but by far the most important thing is the support from all the other members of the Dynamics CRM community. That means anyone who contributes to the discussions on CRM forums, comments on blog posts, sharing of links on social media and all the other activities that help people like you and me to… you know, survive living with this thing we call CRM. In the spirit of award speeches, let me take this moment to ramble on a bit about why these things matter so much.
All the way back in 2005 when I first got exposed to Microsoft CRM (the pre-Dynamics era) in the role of an ICT specialist evaluating alternative applications to replace an aging yet heavily utilized Lotus Notes based CRM system for my organization, the one thing that stood out in Microsoft's product was the amount of community contributed material that was already available at the time. Compared to the world we live in today, it was of course a tiny fraction of the vast resources we've got now, but compared to the other potential CRM vendors on our short list, it was a significant factor that made me push for choosing Microsoft CRM. Knowing that I would be responsible for administering, supporting and customizing the system further once deployed, I naturally wanted to work with a product that I could find answers from not just the vendor but also other users and consultants who were sharing their expertise so graciously on the Internet.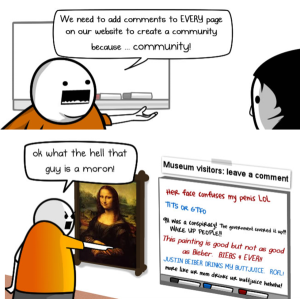 After having spent some time in learning the ropes and reading through a pile of invaluable blog posts (~100 RSS feeds on my Dynamics CRM daily diet) that had helped me solve the day-to-day problems encountered when trying to mold the CRM system to meet the requirements of the users in a couple of customer organizations, I decided to put up a blog of my own to have a place to share some of the tips I had found useful. Then along came social networks like Twitter, that allowed you to discover even more great experts and content on hashtags like #MSDYNCRM. Eventually I realized there was no way for me to return back to the way things were before becoming an active member of the global online community around Dynamics CRM, so the only thing left to do was to push even further and try to make the most of it – even experiment with it, if you like.
The virtuous cycle of communities is truly a powerful force. In exchange for receiving help from complete strangers with no expectation of monetary remuneration, you start to feel compelled to give back to them in one form or another, to pay it forward. Once you do, you begin to notice that there are others who in turn are benefiting from your actions, which makes the cycle just start to spin faster & faster. All that shared knowledge begins to accumulate into a source for "wisdom of crowds" type of phenomena where you are no longer bound by your own cognitive capabilities, rather you can tap onto the community as an extension of your brain to solve the problems you encounter. It's no cyberpunk fiction, simply the best strategy for an information worker to stay on top of his game today and develop the skills needed tomorrow.
Most of the things I know about Dynamics CRM I have learned from the community surrounding the product. That is why I personally value the MVP Award, because in essence it's all about the most important part: the community, not just the application. Therefore, my advise for anyone who's working with Dynamics CRM and is interested in getting more out of their job, as well as getting better at their job, is to take the plunge and start contributing to the community. You don't have to be a CRM guru, a superstar developer or even a 24/7 social media geek to be able to add value into this common pool of knowledge and insight that keeps the Dynamics CRM product moving forward and allows all of us to better solve real life business problems with it, thus eventually helping the world outside the community. All you need to do is proceed along these steps, one ladder at a time:
Explore
Learn
Share
Contribute
Rinse & repeat.
Thank you. Let's keep rockin' with CRM.