This Monday we publicly launched our new company: Forward Forever.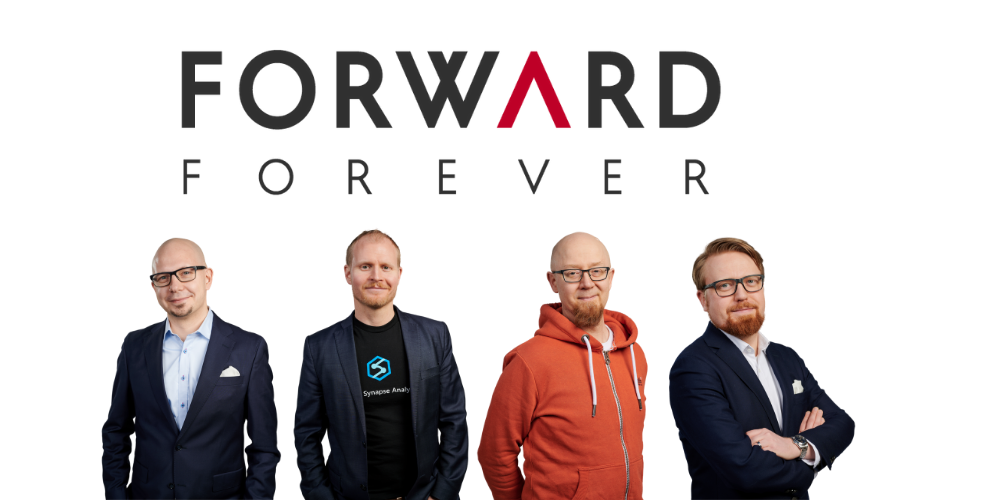 There are many reasons for why we as a team of experienced professionals in Microsoft technologies wanted to build a company of our own, which I'll talk about later once we are actually fully operational and have shown how we operate. Right now, though, I wanted to explain why we've decided to go all in with Microsoft Power Platform. It boils down to the interplay of three elements: data, apps, processes.
Data
James Phillips, President of Business Applications at Microsoft, said in a recent interview (behind a paywall):
"These applications, Dynamics 365 and the Power Platform that sits beneath are designed to be data first, designed to allow you to collect data from across the organization, from all of your various systems and to analyze that, to deeply understand it and to predict. And that's what's leading to I think the success that we're seeing in the market."
The idea of data-first design as opposed to app-first is very much in line with what we've seen happening in the Dynamics 365 product portfolio during the past 1-2 years. Microsoft has placed big emphasis on making the traditional systems of record more intelligent by building various Insights products to broaden the Business Applications stack as well as bringing Insights into the familiar sales, service and marketing apps. Since there is no AI without data, building the connectivity from Dynamics 365 and Power Platform into as many existing business data sources as possible is where the Business Apps are heavily relying on the R&D of MS Data Platform to outrun the competition.
Even before James, the leadership team at Microsoft revealed their true ambitions of grabbing a much bigger share of the pie than what CRM & ERP as an app-first market could offer them. Already back in 2016 when I was visiting Redmond, the leaders of the product engineering for Dynamics CRM at the time were describing the two sides of the complete end-to-end offering as Transactional Stack (XRM) and Analytical Stack, giving us the following guidance:
"Analytical Stack will be 10 times more powerful than the Transactional Stack. This is where you need to be. Transactional apps will be commoditized, monetization will happen on Analytical apps."
That moment really stuck with me. While I knew that such forward looking statement probably wouldn't have a visible impact on Dynamics partner business within the next year or two, it was obvious that these targets Microsoft had on turning things around with their intense focus on data would eventually shake things up. The products would evolve into something different and so would the competence demands for anyone working with them.
Apps
There is a lot of power on the commoditization side of the stack, too. If we look at things only from the traditional business applications perspective, how Dynamics 365 capabilities are typically used by organizations who manage their sales, service, marketing processes, it might at times seem like we're just in a race to the bottom. Packaged offerings replacing project work, ready-made integrations replacing customer specific code, online learning resources replacing in-person training. This is simply what naturally should happen, when technology and past experience allow us to move from solving unique problems to solving common problems in the most efficient and scalable way.
Let's look at another perspective, though: 500 million apps in the next 5 years. This is the statement Satya Nadella made about the exploding demand for new apps within organizations who are aiming to digitally transform their businesses. You don't get to 500M with the normal software project methods and tools, which is why the no-code/low-code movement has such momentum behind it today. Because this is exactly the way. Turning the app users into potential app makers is the ultimate method of commoditizing business applications.
So, this is the second major shift that will shake up the Microsoft partner business. What may well happen is that the existing partner channel for CRM and ERP based solutions that has formed around the Dynamics products over the years will not be the ones who can eventually cannibalize their own offering and grab this new space in the market. At the same time, it's also difficult for me to see the Modern Workplace partners from the Office ecosystem all stepping up into a new area of higher business value consulting. It's not exactly a walk in the park. Helping customers to define how a particular business process with all its actors, inputs and outputs should actually work in the digital domain, inside the frame of existing lines of business and different industries, isn't necessarily the natural path for Microsoft 365 specialists to follow.
Processes
Regardless of all this new AI potential found in huge data sets and the possibilities of new app creation via citizen friendly tools, in the minds of the decision makers in customer organizations it still tends to boil down to the question of money: how to make more of it & how to spend less of it. The faster we can draw a line between these technological innovations and the financial results, the faster it starts to pay off and the more future investments will be made here. This is why the role of Dynamics 365 is still of highest strategic importance for Microsoft to turn the aforementioned vision into reality. In the above mentioned interview, James Philips described this alignment of products vs. platform:
Our customers are telling us that, if we can give them an application to start with versus a collection of tools to go build solutions, they would strongly prefer that.
James has communicated already at MS Ingite 2019 that they've recently tripled the size of their Dynamics 365 sales organization by adding 1000 new people in past 3 months (referred to as "D1000"). With the growing stack of first-party apps in the portfolio, it's only natural that MS needs to assume a more active role in bringing these solutions in front of customers. The very nature of many of these data-first apps is incompatible with the kind of partner channel that Microsoft built back in the MBS era. For the system of record type of core business infrastructure you'll still want a reliable service provide to steer the slow moving cargo ships. For these new speed boats that require quick maneuvering skills, a very different kind of crew is needed.
The old model for Dynamics partners to sell a bit of everything that the product can do to anyone who happens to ask for it is becoming obsolete – or has already become, depending on how much competition there is in the local market you happen to be operating in. The new role of the Dynamics partner would appear to be in offering very specialized expertise on the delivery of application A, preferably focused on target industries X, Y and Z. Microsoft will have done the solution selling part for the latest cloud apps already before you step through the customer's door. If you can't fit your offering into this new role that's being presented, then… Well, it isn't really Microsoft's problem but rather your very own problem as a partner.
It's time to go forward
Based on this perception that I have about the business applications landscape around us, what kind of a partner would Microsoft customers then actually need in order to achieve business success with this technology? My first answer is: they will need many, I'm sure. The platform and the apps on top of it have grown well beyond the boundaries of what the initial deployment of a single CRM system may have been ~10 years ago. It's time for the customer to own their digital business platform and then choose the suitable products and service providers for their different development initiatives that utilize this common stack. This needs to be an ongoing process, not a one & done deal for X years with a single company that got the best scores from your RFP Excel sheet a long while ago.
The second answer is more to do with the skill set that the experts in the partner's team should have. As I described in the Process part, each app in the Dynamics 365 suite will require deeper and deeper expertise. What about the horizontal aspect – the platform that connects all the apps? I would say that the partner you're working with should posses the following traits:
Understand the Data Platform underneath the Power Platform.
Be citizen-ready in their business app development practices.
Know the past, present and future direction of Dynamics 365 products.
At least that's what we as Team Forward Forever are striving to achieve. We've decided that the competence we will build and the solutions we will offer are going to be 100% focused on Power Platform: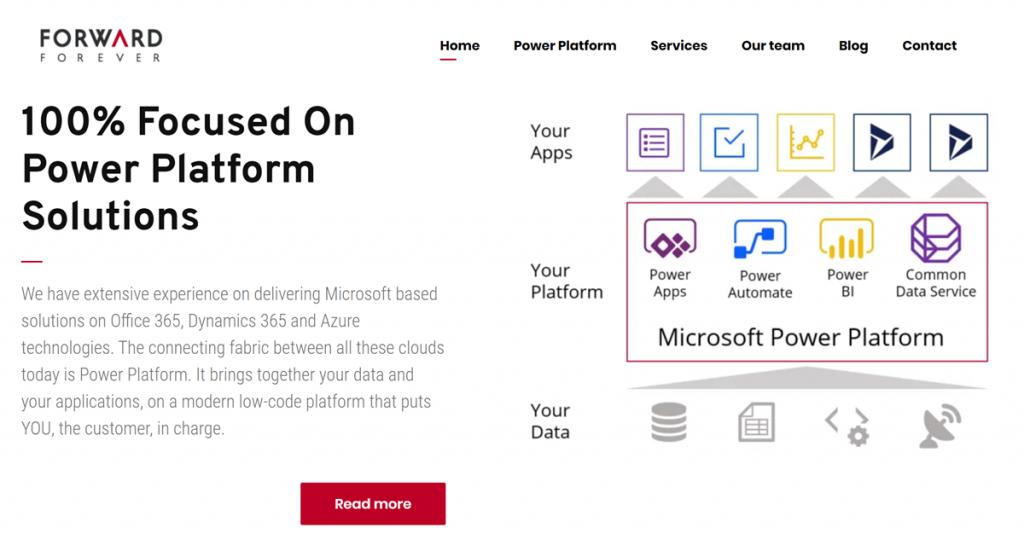 This is the foundation that Forward Forever is built on. Our team consists of professionals with several years of experience on delivering customer solutions with Power BI, Power Apps and Dynamics 365. What we're NOT planning is sticking to doing what we already know, though. The fact that we all see the clear need to evolve our skills towards the demands that the unstoppable onslaught of Power Platform will gradually force upon every partner out there is precisely why we are joining forces. This is how individuals like us can move forward as a team:
Honestly, I couldn't hope for a better crew to sail with on this journey of helping our customers navigate the Power Platform seas. To quote the lyrics of a song by the late & great Andrew Weatherall:
Fail we may, sail we must.

Andrew Weatherall interview: "It's bollocks, it's discos, tell me tales of the sea."