On the first business day of each month, I have one routine that I've been following for quite some time now: check the latest Licensing Guides that Microsoft has published. I have two short URLs that I use for quickly downloading them:
I also have a habit of storing each historical version of these documents (and other licensing materials from MS) onto my OneDrive. I've found this to be the only way you can actually keep track of what's going on in the rapidly moving world of BizApps licensing. Well, these days there is also the GitHub history of commits made on Microsoft Docs pages covering licensing (like this one), if you're into comparing the diffs of each change made in the detailed wording.
Fresh new look for October 2020
This time the latest PDF for Dynamics 365 Licensing Guide offered quite significant changes, which are clearly visible right from opening the document: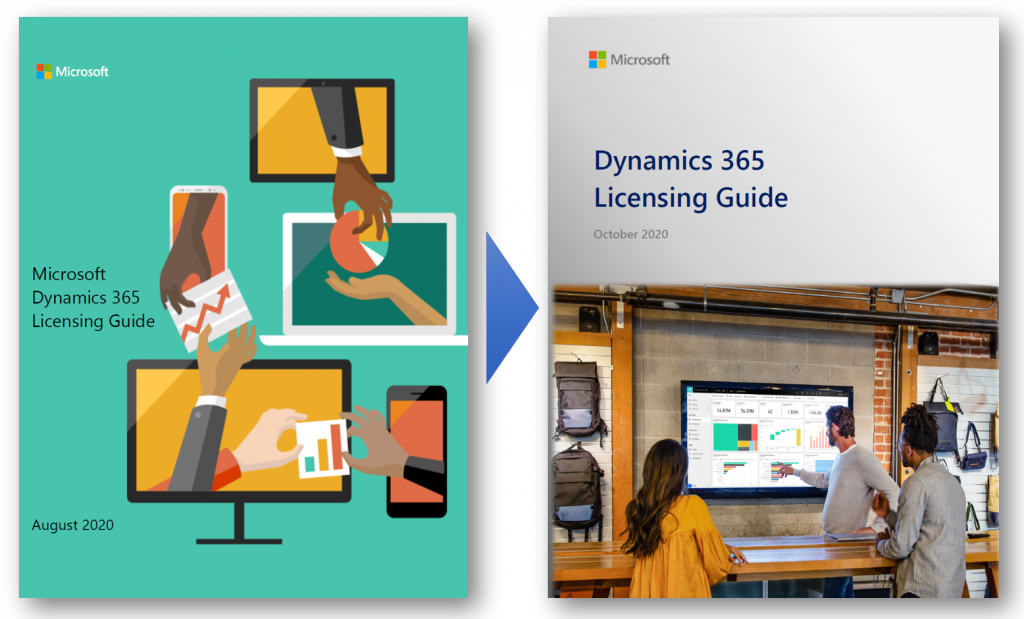 "Big deal, just another cover page update like they do with Release Plans." This time there's more to it, though. Here's what MS says:
The Dynamics 365 Licensing Guide has been reformatted and renewed for October 2020. We hope you will find it consistent and easier to consume. Applications are presented in alphabetical order, and each section covers the full story including licensing model, additional applications, and user rights. Dynamics 365 Business Central and Mixed Reality offers are now included in this guide and duplicative information has been removed. Product licensing information that is legally binding is presented in the Product Terms and Online Services Terms (OST). Power Platform licensing information is referenced in Power Platform licensing documents.
Previously Business Central was excluded from the Dynamics 365 Licensing Guide, which of course sounded a bit strange. After all, the historical plans for having separate Business Edition and Enterprise Edition product tiers for Dynamics 365 were scrapped before these products ever launched, so preserving such division in the licensing documentation did not seem justified.
This was not the only division that existed in the earlier Dynamics 365 Licensing Guide, though. For old time's sake, here's how the last August 2020 version of the Guide illustrated the different types of Base and Attach licenses available: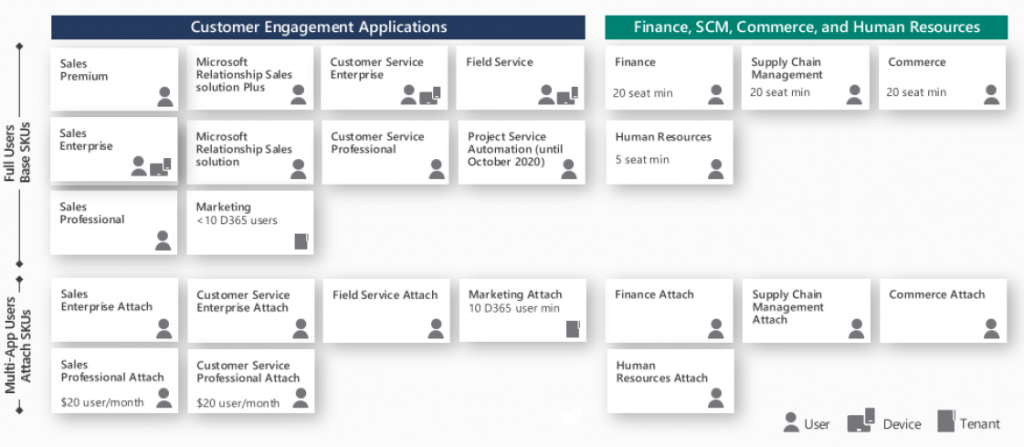 We had a split between "Customer Engagement Applications" and "Finance, SCM, Commerce and Human Resources". Go back a full year and the right side said "Finance and Operations, Retail, and Talent" – because it's apparently a great idea to change software product names at least as often as their licensing model… Anyway, the logical grouping was still the same, meaning we had the XRM/CRM apps on the left and AX/ERP on the right.
This wasn't exactly the way Microsoft would like to present their Dynamics 365 suite of products, as instead of CRM on one side and ERP on the other it should be one seamless plaform. Related to this, MS had stated in October 2019 already that they would no longer be using the term "Dynamics 365 for Customer Engagement apps" to refer to any cloud services, leaving CE as the term for legacy on-prem versions only. Despite of this, up until the August 2020 version the Licensing Guide for these cloud apps still had 47 occurrences of the term "Customer Engagement" in it.
Customer Engagement is gone for good
Now in the lastest Licensing Guide version we have a truly flat list of all the different Dynamics 365 apps presented in an alphabetical order. If you didn't know the origin of each application and what technical platform it actually runs on, there wouldn't be anything in the Licensing Guide to highlight this.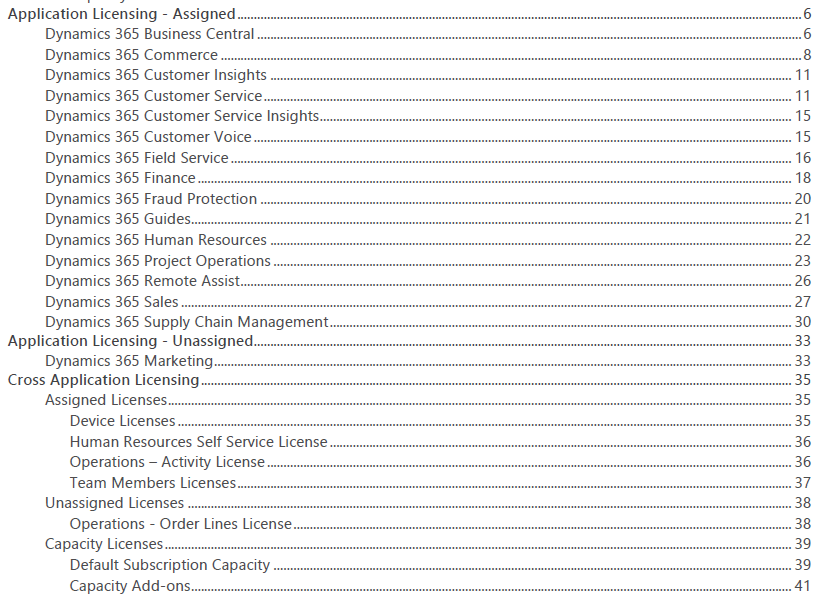 From a commercial perspective this makes a lot of sense. The whole idea behind Dynamics 365 today is that instead of subscribing to a "plan" that opens on set of apps that share a common server origin, your organization's users could subscribe to any combination of apps that suit the needs of a particular subset of your users. The Base/Attach licensing model makes the cost of additional apps an attractive option to explore. While not all data might be in the same physical place for each app, this may not even be an issue for unrelated business processes like Sales and Human Resources.
From a technical perspective, things aren't necessarily getting any easier to grasp by this removal of a familiar layer like CE (or CRM). Yet on a factual level the Dynamics 365 suite hasn't been about the combination of CRM and ERP for a while anymore.
Think about Customer Insights, for example. That's a service built to ingest data from multiple different systems (like CRM or ERP) and manage it on Azure Data Lake. Or how about Customer Voice. It was born from the feature set of Microsoft Forms, then merged with the legacy of now-deprecated Voice of the Customer. The resulting product isn't exactly pure XRM nor is it an extended Office app.
We can expect most new Dynamics 365 products to be hybrids built out of multiple technologies. In the process it's becoming difficult to assign them into buckets based on established enterprise systems.
What's my name again…?
People with a Dynamics CRM background have fairly broadly adopted CE as the descriptor to identify which part of Dynamics 365 they specialize in. As Microsoft erases the last instances of Customer Engagement from their terminology, this can cause some further identify crisis for long time professionals who are experienced with XRM yet can't quite place themselves on the long list of current Dynamics 365 app names.
The way I see it, there isn't any need for a new replacement term to cover what used to be CE, and XRM before that. It's just simply Power Apps! All of the common features of the platform are essentially included under the Power Apps umbrella, and there's a data platform called Common Data Service as one key element of it. Everything up from there is the app specific layer where the Dynamics 365 X product team has implemented functionality with a business process in mind. CE isn't such a useful concept here anymore, because knowing about Sales doesn't guarantee you're fluent in Marketing or Field Service apps.
So that things wouldn't be all too simple, Power Apps does of course cover a wide array of functionality that CE professionals may not be familiar with. For starters, alongside the Model-driven apps there are Canvas apps and Portals – each with very specific logic that could be compared to CRM vs. ERP. Power Automate as the candidate for replacing traditional CE process automation is a fair bit wider than just workflows. If you'd then expand beyond Power Apps and call yourself a Power Platform specialist, would that indicate fluency in Power Virtual Agents and Power BI, too?
Licensing just Dynamics 365 ain't enough
The extensive list of apps and their pricing elements in the current Dynamics 365 Licensing Guide is a bit like the Terms & Conditions of any online service: no one is going to read through it all. At the same time, though, it doesn't go deep enough in explaining how the first-party Dynamics 365 apps relate to the platform capabilities licensed via Power Apps. Unfortunately there is no single Power Platform Licensing Guide document to provide answers, because no such product is actually being sold by Microsoft. You license various pieces of it and then assemble them into your own unique structures.
The trickiest questions around business applications licensing aren't usually about the app specific details that you can read from the Dynamics 365 Licensing Guide. It's about those scenarios which involve using the Power Platform as the means to customize, extend and integrate Dynamics 365 apps. On this front nothing has really changed nor improved, as Microsoft continues to treat these two sides as separate products (see my blog post on why Power Platform licensing is complex). Often you're left between browsing the two separate Licensing Guides, digging through FAQ answers and sometimes tracing the underlying intent of the licensing model into something that a MS representative has informally stated in an interview.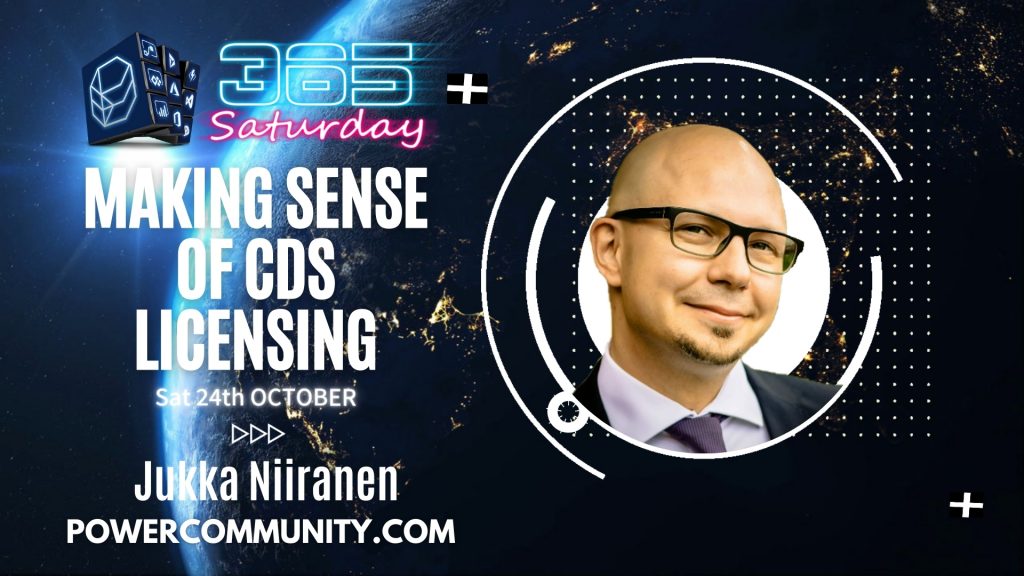 As it just so happens, I'll be speaking at the CDS Saturday event on October 24th about Making Sense of CDS Licensing. This will be a live event with no recording to catch later so be sure to sign up and be there if you're interested in diving deeper into the key aspects of licensing Dynamics 365 & Power Apps when building CDS based solutions.