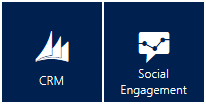 Have you been looking at Microsoft Social Engagement as a solution to integrate social channels with your Dynamics CRM environment, but kept postponing your investments into the MSE application since it didn't yet allow sending social data physically into CRM? Well, it's time for a wake up call, since starting from MSE 2015 Update 1.2 you can now integrate social profiles and social activities into CRM!
This was the main reason that triggered me into spending some time investigating the capabilities and opportunities of the MSE+CRM combo as a solution that could finally connect the back office world of traditional CRM "system of record" with a modern "system of engagement" that doesn't rely on email as the only electronic form of customer communication. After all, who really wants to pick up the phone and try calling a customer service number when posting to Twitter will often give you a far better answer, powered by both the user community as well as the increasing presence of companies and brands wanting to be a part of that social conversation.
Powered by this limited but functional "V1" integration to Social Engagement, I explored what new scenarios the social data unlocks in Dynamics CRM. With a lot of discoveries and takeaways in my back pocket, I decided to turn it into a webcast to present these to the #MSDYNCRM community. Which is what I did just a moment ago on MSDynamicsWorld.com. In order to make the content easy to consume via your media of choice, I also created ~50 slides to illustrate the topics of the session. As promised, they are here:
Update 2015-11-25: now you can also find the webcast recording on YouTube.
The agenda of the session was split into three main categories:
Social Engagement basics

Licensing
Search topics
Social profiles
Analytics
Social Center
Activity Map
Alerts
Feature roadmap

MSE and CRM integration

MSE to CRM
CRM to MSE
Social profiles
Social activities
MSE Link-to-CRM
Record creation rules
Channel properties
Current limitations

CRM customization examples for MSE data

Mobile
Dashboards
Custom entities
Workflows
Navigation
Search
Entity images
External profiles
There's been active development going on with MSE recently (see the What's New page) and based on what we've seen in the CRM 2016 release wave, I think it's finally becoming a relevant topic to include in all Dynamics CRM (Online) customer discussions. Coincidentally, HootSuite decided to announce their Dynamics CRM integration on the very same day as my MSE webcast took place, which just further goes to show that there is demand for solutions to bridge the CRM and social gap.
It would of course be interesting to hear also your thoughts on this. Do you think Microsoft Social Engagement is bound to become a tightly coupled component of Dynamics CRM or is it destined to remain a separate silo that only selected few marketing users occasionally access for reviewing sentiment analysis statistics for the brands they keep track of?