Last year when Microsoft officially launched their Dynamics 365 commercial offering, it marked the end of the Dynamics CRM brand. Initially launched as "Microsoft CRM" in 2003 and then rebranded as "Microsoft Dynamics CRM" in 2005 (see the first 10 years of the platform's history in this blog post), the acronym "CRM" had become a big part of the identity for the ecosystem surrounding the software product. Nevertheless, there were fair arguments for why those three letters had gradually become a bit of a liability for the rapidly expanding cloud business applications platform that now reaches far beyond the familiar CRM grounds. My point of view can be found from the post "The End of CRM as (Microsoft) Software", which turned out to be one of my most popular writings in 2016.
So, out with Dynamics CRM and in with Dynamics 365. Problem solved! Except that this time around the rebranding had a bit wider reaching impact, due to the fact that it covered not only CRM but also the ERP side of the house. And not just one but two ERP's: AX and NAV. With the catchy names "Microsoft Dynamics 365, Business edition" and "Microsoft Dynamics 365, Enterprise edition", MS has almost managed to hide the fact that each of the editions consists of two completely separate application platforms. A bit like what they did with Office 365, which seemed to have worked out very well for MS, so not a surprise we're seeing the same playbook in action again.
In this new world, we now have the concept of an "App". You could, for example, license just "Dynamics 365 for Sales, Enterprise edition" if you don't want to manage cases, or "Dynamics 365 for Customer Service, Enterprise Edition" if leads and opportunities are not on your radar. Financially the incentives for buying the complete "Plan 1" with all the Apps is quite strong, though, so the App model may not become a big part of the conversation after the customer has made the license acquisition and the real fun begins – as us "consultants formerly known as CRM consultants" surely are well aware of.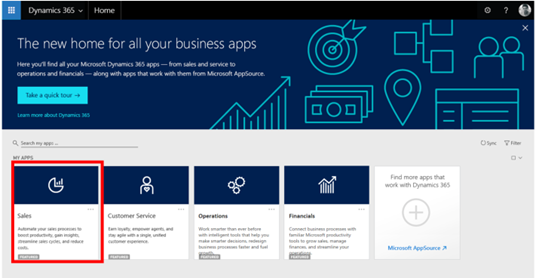 The real question that remains is: what exactly do you have once you've bought the software license? Unless you opted for the full suite of Plan 2 and also acquired the ERP application called Operations (in the Enterprise edition), you're dealing with a subset of Dynamics 365 that does not have any name. If you go XRM and create custom entities, they do not exist inside the walls of "Sales" or "Customer Service" specifically. They're in "CRM", just like 90% of the platform functionality exists across all the Apps.
Why using the generic Dynamics 365 name can become confusing is that you can't assume any text containing it to be about the ex-CRM part of it. It might as well be about ex-AX or ex-NAV. If you go and look at the SDK documentation on MSDN or the newer site at docs.microsoft.com, all they talk about is "Microsoft Dynamics 365".
As long as you have a long history of working with any of the three platforms, you'll probably be able to identify what the text you're reading refers to after a while. But what about all the newcomers that the Dynamics ecosystem needs to attract, in order to continue on its growth trajectory? How will they know what applies to which platform? As an example, here's what the new MB2-715 certification exam page originally looked like: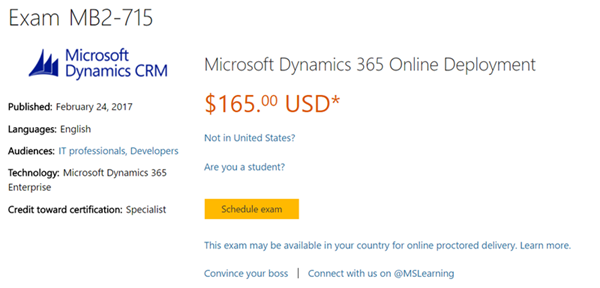 "Microsoft Dynamics 365 Online Deployment". Mmm, yeah, so will this cover both CRM and AX? If you would ignore the CRM old logo with the "Sails" that have actually been discontinued since WPC 2015 announcement already (and can still found in some Microsoft sites & services), the actual description text of the exam never once mentions if its about CRM or ERP. By scanning through the related course material on Dynamics Learning Portal, the word "CRM" is completely avoided in every place – even though it's obviously all about our beloved platform. The reason of course being that there hasn't been anything sensible available to replace CRM with, if you stick to the official MS branding guidance.
This is just silly, and being the brutally honest consultant that I am, I also voiced my concern over on Twitter about this. In fact, there was already an earlier discussion I had with some of the community members about this lack of proper product names for us to use. Nick Doelman wrote a great blog post about this, so go and check it out for context. Yesterday, when I was again browsing through a list of the latest DLP materials, though, I came across a term that I had been expecting to see in public facing Microsoft sites for quite some time now. Here it is: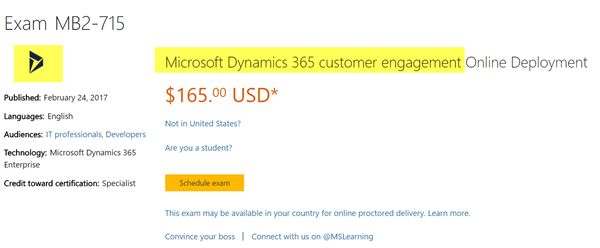 Microsoft Dynamics 365 Customer Engagement. There we have it, folks! The MB2-715 exam description was updated not just with the new logo but also a name that properly describes which particular platform the exam is about. I've seen this term being unofficially used among MSFT personnel, but now we get a search engine hit for it that's not just partner content.
What do I think of the name? I believe it's the right compromise to make, given that CRM must go and XRM is too technical for the wider audience. It's most likely not a brand that Microsoft is too thrilled about promoting, but it's a name that must exists – because there aren't really any other good options around. The way I see it, Dynamics 365 Customer Engagement isn't so much the result of a grand vision but rather it has been born out of necessity. And I for one am perfectly happy with starting to use it, if indeed this becomes the third name for the XRM platform. Not the Apps, but the thing that was MS CRM and Dynamics CRM back in the days.
So, should I now rush out to buy a suitable domain name for "Surviving Customer Engagement"? Hmm, I think I'll hold off from any rash decisions, since the kind of changes that we saw with the Dynamics 365 launch last year are maybe good for grabbing media attention but not the optimal approach if you just want to get your message across to the Dynamics community. CRM will be around for a while, even though we may gradually need to shift towards using a bit different vocabulary when talking about the business application platforms that we work with.