The truth is out there. "There" meaning the social networks in this case. Unlike with previous beta programs (TAP's or whatever they used to be called), the July 2017 release of Microsoft Dynamics 365 Customer Engagement (in short, "CRM") was announced to the world in a three day event called Preview Executive Briefing that didn't come with any NDA ties. As a result, the content from the live stream of these 37 sessions presented to us by the product team PM's was free to be tweeted out into the world.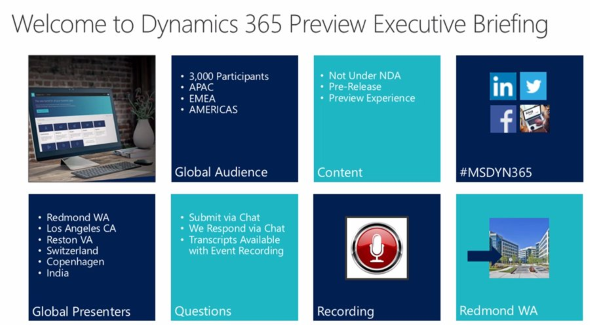 That's exactly what happened then. Community members like #CCOGNETTABOT didn't settle for only capturing screenshots from the sessions into their own OneNotes but also shared it with the world under the #MSDyn365 hashtag. As the amount of information was approaching Big Data, I in turn tried my best to capture the most relevant pieces of the social stream and compile it into Storify. Not only did we end up getting a "best of" from the slides and live demos, also the most interesting Q&A responses from the product team were recorded here.
Below is a link to each individual Storify collection, as well as the embedded story for a preview (ha!) of the content included there (if you're viewing this on survivingcrm.com and not Dynamics Community).
Day 1, 2017-06-20
Topics included Unified Interface (earlier names "Unified Client" or UCI), mobile, field service, Unified Resource Scheduling (URS), CafeX, Social Engagement (MSE).
Storify: Microsoft Dynamics 365 July 2017 Release Preview, Part 1
Day 2, 2017-06-21
Business Edition for sales & marketing (i.e. differences compared to Enterprise Edition), event management, LinkedIn, portals, USD, App Modules, Virtual Entity.
Storify: Microsoft Dynamics 365 July 2017 Release Preview, Part 2
Day 3, 2017-06-22
Customer Insights, Organization Insights, Relationship Insights (notice a pattern here?), business process automation (BPF, MS Flow), multi-select option sets, security and compliance, Web UI refresh (for Enterprise Edition), Application/Platform separation ("solutionizing CRM"), Power BI, Data Export Service (DES), Common Data Service (CDS).
Storify: Microsoft Dynamics 365 July 2017 Release Preview, Part 3
What's Next?
This v9.0 is a major release, not just by the version number but by the sheer amount changes happening in the platform, the client, the apps and the services connected to Dynamics 365. Most of this will NOT arrive in July, instead it'll be rolled out via Private Preview and Preview programs towards the eventual GA. I believe it's definitely the right thing to do, seeing the number of moving parts involved here. Also, the investments made to the platform are specifically designed to make it more modular and less of a monolith that you have to upgrade in one big bang. Oh, and v9.0 is online only, with on-prem updates coming for the applicable areas after these things are tested in the cloud.
You can still sign up for the preview program here. In fact, if any of this Dynamics 365 stuff is of interest, you MUST sign up, or risk being left seriously behind. After three long nights of watching the non-stop live stream from the Preview Executive Briefing of v9.0, at least I feel like I'm now just starting to know what I don't know. No single developer ninja or superhero consultant can grasp all of this, so it's important that you also make it a team effort and spread out the responsibility of keeping yourselves educated. My advice would be for everyone to review these summaries from the three days, let people pick out the areas that seem most interesting/relevant for their current and potential projects, then agree to start poking around with the preview environments and reading the related documentation as soon as they become available. And most importantly: share with the world what you have learned!