On July 12th it was announced in the Microsoft Worldwide Partner Conference (WPC 2010) that there will be no CRM 5.0, instead we will have a product called Microsoft Dynamics CRM 2011. Not a huge surprise, considering the other Dynamics products like AX and NAV had already moved to this naming convetion followed by the Office family for quite some time now (actually 15 years, if we exclude the odd Office XP release in the middle).
So much for the branding. Underneath it all we will have the "CRM5" engine evolving from CRM 4.0, with quite a few important improvements on how the application can be utilized as a platform for developing your own custom applications, a.k.a. the XRM mantra that Microsoft has been heavily promoting and showcasing between the product version releases. While this side of the coin will surely play an important part in gradually turning Dynamics CRM into part of the core enterprise infrastructure like SharePoint has become, the first thing most new users will see from the application will still be the Outlook client and traditional customer data management functionality. Which is why there have been some big investments from the Redmond boys on developing that side of the CRM product, as you can see from the picture below.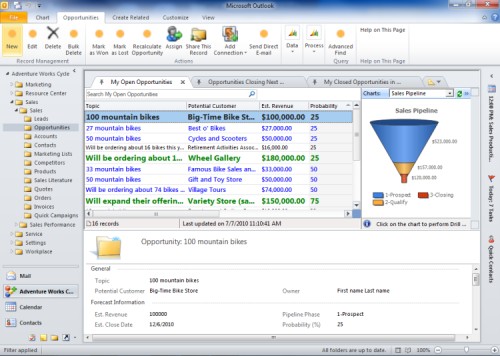 Instead of merely wrapping the web client page into an Outlook frame, the new rich client interface introduces whole new components that attempt to follow the faimilar Outlook UI experience. Tabs will help in keeping the number of pop-up windows under control while the preview pane we've learned to take for granted in processing our email inboxes is now also available in the scope of CRM entity forms. Since Dynamics CRM 2011 now comes with the ribbon interface like most other MS products, the CRM functionality now blends into the Outlook toolbar and gets presented in all its context sensitive glory. I myself have always preferred to use CRM through the web client, since the Outlook version has faded away some of the native CRM application navigation in order to remain Outlook-ish. With the new 2011 version, it looks like there will actually be better functionality (and hopefully usability as well) available through the rich Outlook client, which may make the web client look thin in comparison. Now, this of course raises the question that will any of these rich UI features be available if you stick to Office 2007 or do they require Outlook 2010? Remains to be seen.
Among the new features there is the ability to connect to more than one CRM organization through a single Outlook client. In my opinion this has always been one of the key shortcomings of the XRM offering from Dynamics CRM. Although multi-tenancy would allow you to easily create multiple different organizations on the same application server and leverage CRM as a framework for building non-CRM applications, the curse of a default organization for the Outlook users has meant that one major selling point of the core CRM product, i.e. familiar Outlook experience, has been somewhat paralyzed in the XRM scenarios. I'm not sure whether email tracking to multiple organizations is among the list of supported features, though, so some barriers may still remain on the road towards a ubiquitous "set regarding" button for all the activities encountered during the office hours of a knowledge worker.
Another common integration point after the Exchange/OCS messaging infrastructure is of course SharePoint for document management, which is also becoming a native part of Dynamics CRM 2011. The OOB functionality is unlikely to offer much glamour over the previous custom integrations of showing document libraries in an iFrame. The big deal would however be in synchronizing the user rights across the CRM and SharePoint realms, which is where I would put my money on MS to deliver a solution. What I would also like to see offered is a native integration to the FAST based search, thus providing a more Google like search experience for CRM users, but since SharePoint 2010 is highly unlikely be a system requirement for CRM 2011 implementation, this will surely remain a custom solution to be offered by the Dynamics CRM implementation partners.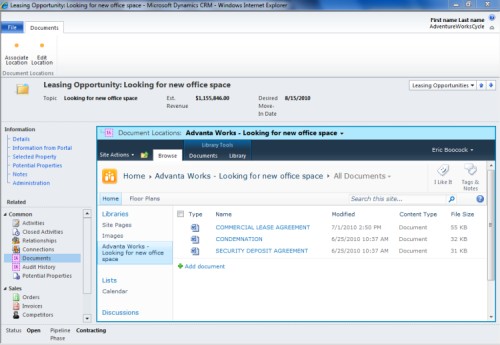 The release of SQL Server 2008 R2 already introduced maps and geospatial visualizations into the Reporting Services (SSRS) feature set. With Dynamics CRM 2011 investing heavily on data visualization and built-in dashboards, perhaps we will finally get an easy way to map address attributes from CRM entities into a nice looking view like the one below. Or then maybe it will still require populating some additional coordinate data onto the records and paying for Bing API usage. Time will tell (or some fellow bloggers?).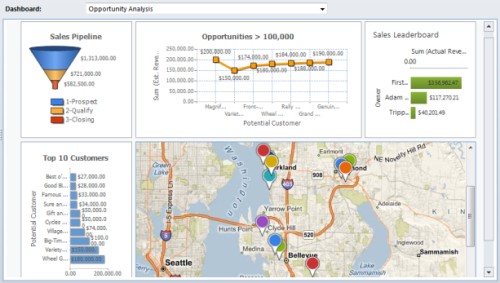 Going beyond what CRM offers out-of-the-box has always been what really makes the product so intriguing. There are countless ISV's and individual developers out there who have built tools, enhancements or full-blown service integrations on Dynamics CRM.  Keeping track of the offering as a CRM end user or gaining visibility for your product as a service provider has not been so straightforward, due to the lack of a clear forum for these two parties to meet (here's my personal link list on the topic). If both the user and the partner working on a CRM implementation project are small companies, exploring the world of ISV's for solutions that would fit an identified need may just be too much of a hassle to be undertaken when there are more than enough customizations and plug-ins to worry about. This is where a simple solution could potentially unlock a big new market and that is what the newly announced Microsoft Dynamics Marketplace is going to attempt when it is launched in September 2010.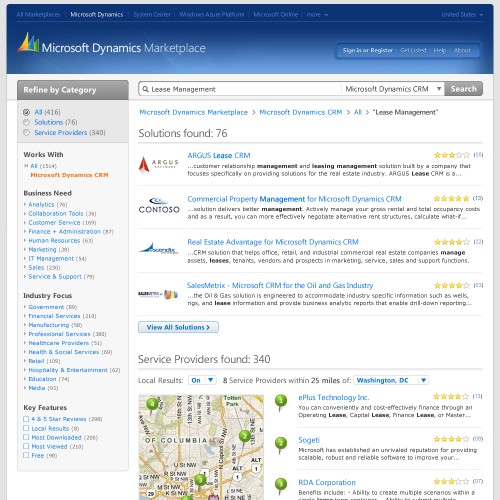 Initially the Microsoft Dynamics Marketplace looks to provide the existing catalogue of products from the Microsoft Dynamics Solution Finder. Also it will be built on the existing Microsoft Pinpoint platform. This combination in itself will not yet provide a huge leap forward in streamlining solution discovery and distribution, but at least it's a start. Later on the Marketplace is promised to offer proper e-commerce functionality, thus allowing the exchange of money like a true marketplace ought to. In Dynamics CRM 2011 the Marketplace will be an integrated part of the application (probably á la Resource Center introduced in CRM 4.0), which will certainly help in bringing down the barriers to commercial transactions taking place in the ecosystem. The biggest dependency to Dynamics CRM 2011 in my opinion will be the upcoming solution management functionality, as this promises to deliver a controllable environment for the service providers to package their applications and not having to invest unfeasible amounts of support resources into ensuring whether the solutions will fit the unique CRM puzzle of each and every customer that wants to install it.
Building a marketplace is relatively easy, but getting it to work for the benefit of all interest groups (sellers, buyers and the platform provider) can be very tricky. Just because Apple has done such a phenomenal job on this front and built a whole new value adding layer around their core product experience with the help of 3rd party developers doesn't mean that any app store would automatically be a success. Nokia, the previous leader in the smartphone field had launched their own Software Market around 10 years ago, failing to get much traction on the concept, and finding itself still struggling today, chasing Apple with a not so appealing concept called Ovi Store. Or have a look at the Windows Mobile / Windows Phone Marketplace and compare that to what Apple and Android have. Get the picture? The moral of the story is that you need so much more around the Marketplace concept than just a pretty site with some links to random products you have on sale. App stores only work when they are truly designed to serve the application ecosystem, not just to make money from the service or use the partners as a showcase for your own offering. Solve a real problem first, then watch the revenue streams accumulate later as a result of the value that you injected into the process first. Here's hoping that Microsoft can build a serious contender for Salesforce.com AppExchange and the likes, as this will surely be one of the key success factors in the brave new world where rigid business applications are transforming into flexible services that the customers assemble into customized solution packages on-demand, pay-as-you-go.
So what's up with the cloud then? Well, the jokes about running applications in your very own cloud hosted on the server hidden in the closet have just become a tad less funny, as Microsoft went and announced the Windows Azure Platform Appliance. Bundled with Windows Azure, SQL Azure and some other goodies, this will basically be a cloud-in-a-box type of a solution, which is trying to bridge the gap between on-premises and online. The underlying strategy behind the Azure appliance will surely be speculated from a plentitude of different angles, but my take on this is that it's a one big step on the path towards Azure and the cloud becoming the default platform rather than the option. Companies who don't want to or aren't allowed to move their applications to CRM Online will be offered the possibility of replicating the Azure services inside their own (or hosted) server room. Once on Azure, the step towards handing it all over to Microsoft's cloud will be not that far away anymore. By giving a clear message that Microsoft is focusing "all in" on the cloud, Steve Ballmer is also saying that the investments to their remaining traditional applications development will be steadily decreasing. You will continue to have the power of choice, but choosing to opt out from the cloud will just become more and more difficult to justify.