Andrew Bybee and Girish Raja had a pre-recorded session released on the PDC10 site, called Building Business Applications in the Cloud with Dynamics CRM Online. Not surprisingly, this presentation was revolving heavily around Microsoft Dynamics CRM 2011 and how it's new features can help developers build XRM applications on top of Microsoft's cloud architecture: Windows Azure, SQL Azure, AppFabric and, last but not least, CRM Online. You can view the full session here, below are a few takeaways from that session for the CRM crowd.
The concept of XRM is probably pretty clear to most of us by know, but since PDC is not a Microsoft Dynamics event, an introduction was of course presented. The example used by Andrew here was the familiar HR scenario for processing job applications.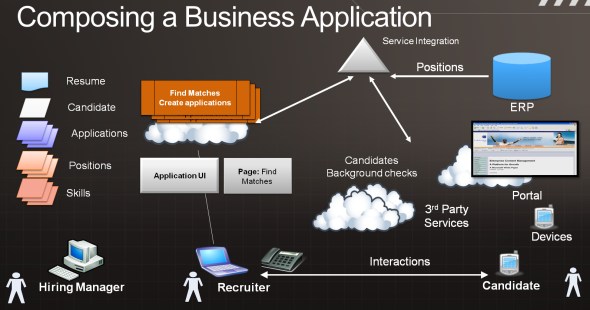 In the next slide the MS pieces of the puzzle are laid over the solution components.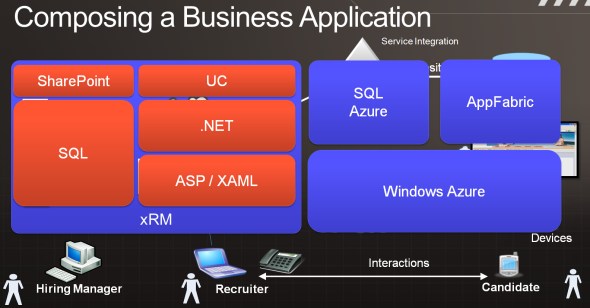 With the native support for SharePoint integration in CRM 2011 (limited but extendable through SDK), drawing the document management box inside the XRM platform is already perfectly valid. ERP in the cloud is not a scenario actively promoted yet, but that's where AppFabric and CRM 2011's Azure aware plug-ins come into play, allowing the cloud apps to exchange data with on-premises apps. The whole Azure side of things is of course presented in less detail, as these are more of generic services rather than the XRM framework which Dynamics CRM 2011 tries to deliver us. Anyway, compared to the first application development platform talks around Dynamics CRM, it's safe to assume that Microsoft's cloud message will become inseparable from the XRM story and form a single Cloud XRM concept. In order to challenge SFDC and Force.com, the hybrid model and power of choice will of course remain in the marketing materials, but I'm sure no one wants to build a non-cloud demo for these kind of conferences anymore.
The actual demo applications were not taken from a HR scenario. Rather we were first presented with a Twitter application built into a CRM 2011 solution. By the looks of things, everything appeared to be on quite a functional level in the demo, so let's hope this will become one of the first accelerators that Microsoft releases for CRM 2011 as a downloadable solution packet from the Dynamics Marketplace. Defining search criteria for harvesting tweet data, converting tweets to cases with a process dialog and mapping tweets on a Twitter Dashboard with a Bing Maps component (shown below) were some of the highlights in this demo.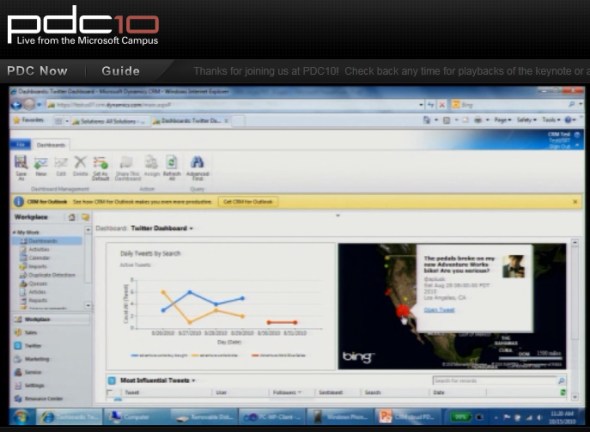 Andrew also presented the Configuration Page functionality available for CRM 2011 solutions. This is an area where I would love to see more information and examples of use cases. You can set either HTML or Silverlight web resources to be the configuration page for a solution. The page on the Twitter application looked quite flashy at least.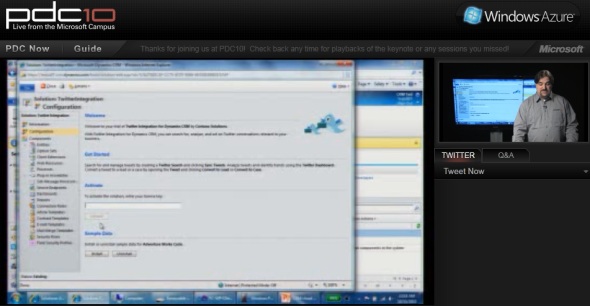 After Andrew's demo, Girish took over the presentation and walked us through a demo of a Windows Phone 7 application that was working with data consumed from and updated to CRM 2011 Online. WP7 must have been on of the biggest stars of PDC10, especially since every attendee received a free device. What better way then to capture developer attention for business applications than make 'em run in that new, fluid UI of WP7. The order entry process used in the demo may not represent an everyday scenario for most companies, but it's a good reminder for all of us that one way of driving CRM adoption inside a company would be to give the sales guys the kind of tools that are compelling and fun to use. Everything doesn't need to be just grey forms anymore, not even during the office hours.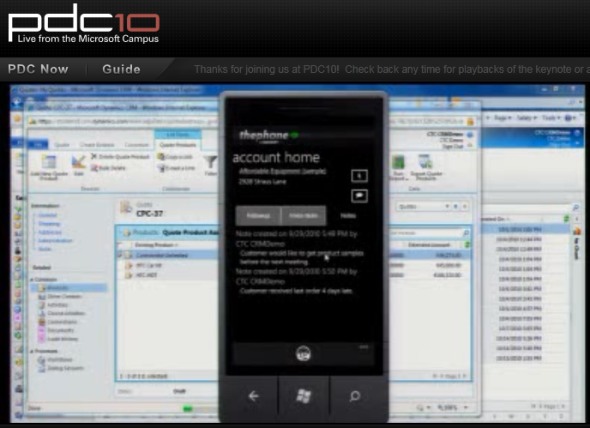 To close things off, here's a summary slide taken from the presentation that can also be downloaded from the PDC site. Even though the visible UI changes in CRM 2011 will be the most notable enhancements for the casual CRM users, I've yet to decide whether the developer and platform management enhancements are actually even more significant. Guess we'll soon see if the release of version 2011 can kick-start the XRM solution ecosystem growth into full speed.