There's an immense amount of product news coming up from the WPC 2011 conference, due to the sheer size of Microsoft's portfolio of different product lines. Luckily also Dynamics CRM had its 15 minutes on the WPC keynote stage and we saw a few bits and pieces of what lies ahead in the upcoming Q4 2011 Service Update that will become available to both CRM Online and CRM 2011 on-premise later this year. I already wrote a post in Finnish about the CRM news from WPC, but I thought I'd also share a few screenshots here to those who haven't seen the keynote video.

Social business remains a hot topic and Microsoft will add some of the much needed social aspects into the next release of Dynamics CRM. Activity feeds á la Twitter, Facebook, Yammer, Chatter and the likes will be integrated also into Dynamics CRM, as can be seen in the demo dashboard below.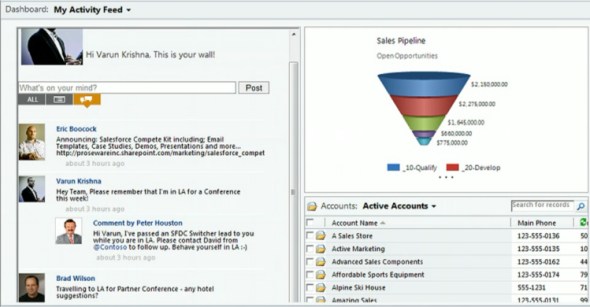 In addition to allowing status updates from colleagues, the functionality we saw earlier in CRM 4.0 as the Business Productivity Newsfeed Accelerator (though merely a report) and then later on implemented through 3rd party add-ons like Vibe from Sonoma Partners, now looks to become a core part of Dynamics CRM platform. I'd imagine these automatic feed items are still posted as a result of record updates triggering workflow process rules, like in the aforementioned examples.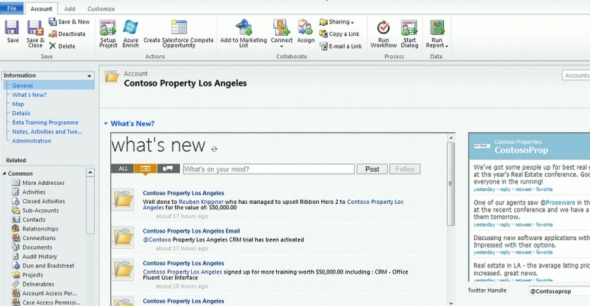 Office 365 will become the new home of CRM Online in Q4 as it integrates into the same infrastructure. In addition to subscription management and authentication provider improvements, there's some interesting benefits for CRM in the Lync integration provided from the Office 365 cloud. No longer will you be limited to only have chats and video conferencing with your colleagues. If the customer contacts in your CRM database are also users of Office 365, their presence information can be federated across organizations (if they choose to, I'm sure) and presented right inside the CRM forms, allowing you to reach out to them through Lync with one click.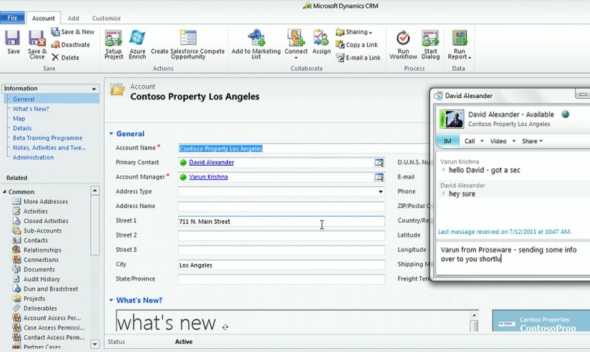 Azure Data Market is now being marketed as the "one-stop shop for premium data and applications". The Dynamics CRM demo included a custom button called Azure Enrich, which went out into the Data Market, opened up D&B's company database and provided the missing address information for the Contoso account. I guess the big news here isn't how you can retrieve company data through the API, but rather what the existence of a central marketplace can actually do in making data available to a whole new scale of potential customers, from a variety of global players. The cloud is not only for apps anymore.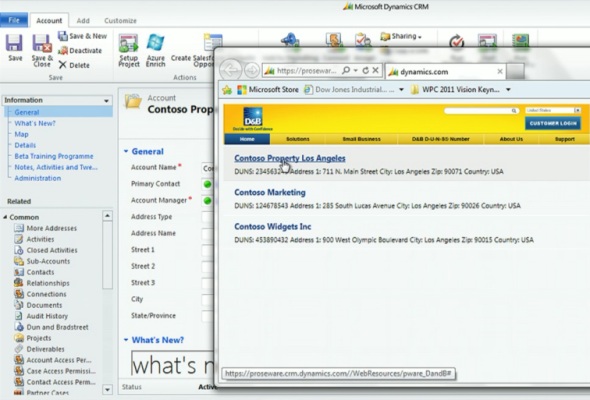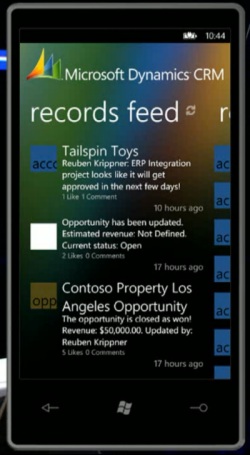 In the WPC keynote demo we saw again a Windows Phone 7 client for Dynamics CRM. This time there was also one new screen included, which presents the same activity feed information (labeled as "records feed"). It doesn't quite compete with the other flashy WP7 Mango demos presented later on in the session, but definitely a useful way for mobile workers to keep an eye on what's going on in the CRM database while outside the office.
Oh, and of course there was the tablet app built for running Dynamics CRM on a Windows 7 slate. With all the Metro UI goodness, I'm wondering what the out-of-the-box experience could actually become like once we reach Windows 8…