There's been a huge level of interest towards my previous blog post on the updated user experience in the next Dynamics CRM version, codename Orion. A wealth of great comments have been added by #MSDYNCRM community members both here and on the LinkedIn Dynamics CRM Group thread. Thank you all for contributing into the discussion around the future direction of CRM!
Based on these comments and observations, I decided to write down some further thoughts of mine on the potential impact of Orion. After all, it will be a while before the next Dynamics CRM release is officially out the door (notice how it's almost "light years away" in timeline slide below?), so we've got plenty of time to kill.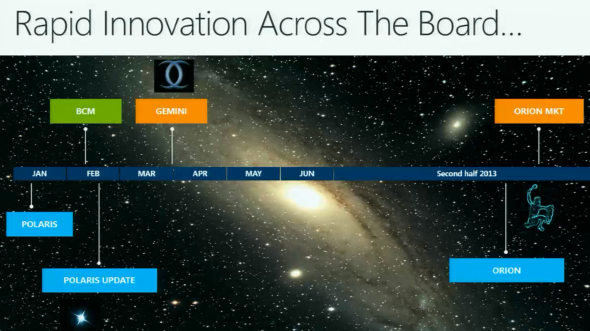 The Aftermath of Polaris
The Polaris release in January seems to have raised a few concerns among customers and consultants, specifically on these two fronts:
CRM Online only – is Microsoft going to ignore its on-premises customers?

Lack of support for Javascript on the process forms – will Dynamics CRM cease to be an extensible XRM platform?
If we start from the Online part, Microsoft has made it clear already some time ago that they will proceed with an "Online first" strategy when it comes to updates and new features. While previously the gap between the on-premises and Online environments in terms of feature availability has been fairly small (with many hotfixes still arriving first for on-premises customers), Polaris really shifted this balance by introducing a whole new user interface with the process forms as well as integrations to external services like Bing Maps and Skype.
If you were only casually following the product roadmap announcements from Microsoft last fall, it will have been easy to miss the fine print that said the December 2012 Service Update was for CRM Online customers only. Although Microsoft has basically promised that all of the new features will be introduced also in the on-premises version, with no specific release dates available yet, this message may not have been very comforting to those who were mistaken to expect the new Polaris features for their CRM servers already in December. Many blog posts were later on written to clarify the differences between Update Rollup 12 and Polaris, so clearly there was some room left for improvement in the product roadmap communication strategy for future releases.
Since Orion will be a major version release with synchronized contents for all deployment models, it's only a matter of time before we'll return back to the status of feature parity between Online and on-premises. However, it's also just a matter of time before there's a further release planned that targets CRM Online customers only. As has been stated, the plan is to have one release per year for on-premises and two for Online, so it's best to adjust yourself to the idea that the latest innovations will be piloted in the Microsoft cloud. On-premises remains a perfectly viable option (or the only option for some customer groups), but things just won't move as fast there as they do in the cloud. When dealing with business software, that's not always such a bad thing actually.
Let Them Eat Jscript
Just like the "Online only" nature of Polaris, the support for scripts or, more precisely, the lack of it wasn't a widely advertised quality of the new UI. This limitation has understandably caused frustration in different departments. Funnily enough, having the privilege of access to new features doesn't necessarily make you any happier if you end up feeling that something has been taken away from you at the same time.
For existing CRM Online customers with form scripts already applied, be it for simple conditional logic related to fields and values or more complex calculations, it has meant that the benefits of the new UI can't be taken into use without cutting back on functionality that exists in the old UI. For new customers who sign up for a CRM Online trial it can come as a surprise that in order to implement the business logic that the organization needs, their Microsoft partner will have to "downgrade" them to a UI that looks very different from the one that got the excited about the product during the 30 day trial.
If you ask me, I think the problem really is that Polaris wasn't released as the "iPad client" but rather as the new user interface for all clients. This brought the requirements for the UI onto a whole different level and, unfortunately, at this level Polaris isn't able to compete with the classic forms yet. If the Flow UX was something that the users themselves could easily switch to, similar to using the "/m" in the CRM URL to access the Mobile Express version, consultants and administrators wouldn't need to be cautious about enabling this new UX alonside the fully functional Ribbon UI of CRM 2011.
Orion Rising
With Orion we can expect to see the support of form Javascripts to be extended onto the new Process forms, if only for the simple reason that the "classic" forms may not be available anymore in the next release. Alongside this we'll also see a brand new navigation pattern supported by the global Navigation Bar, as Dynamics CRM will transform from a popup-driven application to a standard web application that can be operated in a single browser window.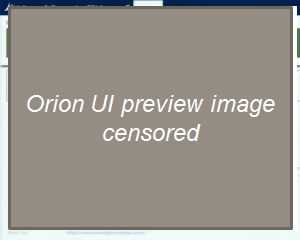 On-premises CRM 2011 environments that will be upgraded to Orion (most likely to be called CRM 2013 or CRM 2014, depending on the actual release date) will see quite a significant change on the user interface side. Not only will the Process forms change the standard layout from a vertically scrolling list of fields to a more "widescreen" design with multiple sections side by side on a bright white canvas, also the traditional navigation components of Dynamics CRM UI will be renewed as the graphical Ribbon gets transformed into a text based menu and the left hand side navigation items get moved into the top Navigation Bar.
Concerns over the impact this upcoming change in the UI will have on existing Dynamics CRM implementations, particularly from the XRM end of the spectrum, are quite natural. If you are tasked with building a wealth of custom processes and business logic on top of the underlying platform to make it work according to customer specifications, then it may not be such a huge delight to find out that you'll soon need to rebuild some of it to fit with the new design of the CRM presentation layer. The fact that you don't yet have information about the SDK level changes only makes this more stressful.
What does the newly announced focus on applications and the goal of "making users love their CRM" then mean in practice? After introducing all the solution management improvements and more supported form customization techniques in CRM 2011, is Microsoft now about to turn their back on the XRM story and break existing deployments with these announced changes in Polaris and Orion? Aren't they just ignoring the current customer base and developer ecosystem in an effort to lure in new users by selling them the concept of CRM Online on an iPad touch screen? Why not focus on fixing the existing pain points instead of acquiring more external services like Netbreeze or Marketing Pilot?
One way of looking at this is that we're just seeing a natural stage where any piece of published software will eventually reach, which is the maintenance of legacy code. I encourage everyone to read the insightful post "Surviving Legacy Code" by Steven Sinofsky (of Office and Windows fame) where he discusses the various challenges encountered by software product development professionals tasked with maintaining and updating a system that existing customers depend on but which must also adapt to new requirements and use cases that arise over time.
I won't attempt to rewrite Steven's thorough analysis here, rather I'll quote a few pieces from it to deliver the key considerations here that are relevant when thinking about the future of Dynamics CRM:
"Assuming we're not going to just shut down the system, it will change. Some people will like the change and other's will not. One person's treasure is another's trash."

"Once your system introduces extensibility it becomes a platform. Someone, internal or external, will take advantage of your extensibility in ways you probably didn't envision. You've got an instant legacy, but this legacy is now a dependency to external partners critical to your success."
Thinking about this legacy dilemma in the XRM context, if the user interface of the platform is going through significant changes every 2-3 years, how can you rely on it to serve as the foundation for your line of business application? Well, I'd turn this question around and rather ask: how well would the LoB application remain relevant to its users over its expected lifecycle if there weren't any updates introduced to its user experience? The point being, businesses shouldn't choose Dynamics CRM as their XRM platform just because it provides the right set of plumbing and extensibility at this moment. The fact that someone else (meaning Microsoft) will further develop the platform for you and keep releasing new versions is equally a key benefit of the strategy, when compared to the alternative of building the whole application from scratch.
Embrace The Joys of Upgrading
To be able to reap full benefits from you platform of choice, it's important to plan for the upgrades well in advance, meaning building your own roadmap of the kinds of investments your XRM solution will require beyond the initial go-live. Even though it's difficult to guess what the future versions will look like and which current custom/add-on features may get built into core platform, what is relatively easy to predict is the approximate schedule of new releases that you should prepare for. An even easier task is support lifecycle of each version, which Microsoft makes publicly available for anyone to see. For example, the lifecycle of Dynamics CRM 4.0 started in February 2008 and its mainstream support ended last week, on April 9th. That's over five years of support for the platform, even though a newer version came out two years ago. CRM 2011 on the other hand is scheduled to have around 1000 days of mainstream support by the time Orion is released.
Although running the previous version of CRM is a "luxury" reserved for the on-premises customers, getting stuck on an unsupported version is a trap that should be perfectly avoidable given the information available. Just because Orion is still some 6 months away and the first few Update Rollups for it (again, predictably released every 8 weeks) to iron out any initial bugs are even further still, that doesn't mean you couldn't already be formulating your upgrade strategy and planning a possible timeline for the project. For example, how about taking advantage of the Orion "preview version" of Polaris and signing up for a 30-day trial account to understand the direction where Dynamics CRM is heading?
I wrote an article on why Polaris is the Windows 8 of Dynamics CRM a while ago and I'm already starting to think that a sequel along the lines of "is Orion going to be the Windows Blue of CRM" might be in order eventually. Whenever you are serious about moving the cheese, there will be emotions both for and against the change, and you might very well not succeed with your first attempt yet. Playing it safe, however, and holding on to the legacy isn't a viable option for the solution vendor nor the customer in the long run.