There were a couple of announcements made regarding the upcoming version upgrade of Microsoft Dynamics CRM (previously known as "Orion") during the World Partner Conference 2013 event (WPC13) three weeks ago: 1) it was named as "Microsoft Dynamics CRM 2013 / Microsoft Dynamics CRM Online Fall '13 (depending on your deployment model) and 2) the client licensing model was unified between Online and on-premises to consist of Professional, Basic and Essential license tiers. The CRM related sessions also presented several interesting facts about where Dynamics CRM is heading (see my WPC13 recaps of Day 1, Day 2 and Day 3 if you missed them), but all in all they were more about the product roadmap rather than detailed features of the next release.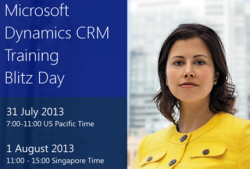 Today, on July 31st, Microsoft held the Dynamics CRM Training Blitz Day for all its partners. The sessions were split into two tracks, but for most of this blog's audience I'm sure the track "Technical Overview for Application Consultants, Presales Consultants and Developers" was the preferred choice. The sessions presented by the Redmond allstars Eric Boocock and Girish Raja consisted of the following topics:
Reimagined User Experience in Microsoft Dynamics CRM 2013
Process Agility in Microsoft Dynamics CRM 2013
Microsoft Dynamics CRM 2013 Mobile Client Application
Yammer Integration in Microsoft Dynamics CRM 2013
Outlook Client and Exchange Sync in Microsoft Dynamics CRM 2013
Microsoft Online Portal Administration in Microsoft Dynamics CRM 2013
Upgrade Process in Microsoft Dynamics CRM 2013
Business Rules with Dynamics CRM
Client Extensibility in Microsoft Dynamics CRM 2013
Extensibility on the Server and Cloud with Dynamics CRM
Microsoft Dynamics CRM as a Platform for Business Apps
If you're a Microsoft partner and have access to the event site, you really need to schedule some time for going through the recordings and other content available, because this is effectively the "What's new in Microsoft Dynamics CRM 2013" training kit that summarizes the new and updated features of the product you'll be working with from Q4 onwards.
Although this was a partner event, it was declared "free to tweet" and resulted in a wealth of content being shared over on Twitter. I collected the most interesting content related to new features of CRM 2013 onto a Storify post that you can view below, to get a quick overview of what was announced in the Blitz event.
There will surely be more material made available to Dynamics CRM customers shortly, so that they'll have a better understanding of what it means when they see the update notifications in their existing CRM Online instances. If I'd have to summarize the CRM 2013 release highlights in five bullet points, they would be:
The new UI that was previewed in the "public beta" of the Polaris release looks like a worthy successor to the previous forms & ribbons. The impact to user adoption and differentiation from competing CRM products is potentially huge, while the feared breaking changes to existing customizations may not be as big as the initial reaction might have suggested (things will break, of course, but I don't foresee a catastrophe).
Business rules and synchronous workflows are the real killer feature of CRM 2013, since they expand the no-code capabilities of the product immensely. They will surely not cover all the common customization scenarios in the first release, but they point the way towards a declarative future where custom development efforts can be targeted to where they are really needed, meaning system integrations.
The mobility story with responsive design and "write once" business logic is far beyond what the "CRM Anywhere" path announced in February 2012 (and later cancelled) would have allowed to achieve.
Server side sync is long overdue and many organizations will surely be happy to replace the email router with this solution. Tracking individual items will still require Outlook, though. And while we're at it, the new UI in Outlook client with its popups and hidden global navigation doesn't look all that hot, but friends of Outlook and CRM 2011 may disagree with me.
Acquisitions of Yammer, Marketing Pilot and NetBreeze will play a significant role in the future of the product, but CRM 2o13 is still very early days for this feature set. It's loosely coupled services like this which will surely make the most of the rapid release cadence of CRM Online (twice a year), so keep an eye on them.
As with most new things, there's a great deal of excitement I have towards the CRM 2o13 release based on what I've seen, and at the same time a healthy sense of fear on "is it all really going to work". Lucky for us, we can now seek validation for the excitement and relieve our fears by downloading the beta for Microsoft Dynamics CRM that has been posted on Microsoft Connect today patiently waiting for a public beta to become available (if ever). Yes, the beta link shared by the CRM team previously was apparently not meant to be made available publicly, so you'll still need wait for a while to get your hands on the latest version of Dynamics CRM.
When will the actual Dynamics CRM 2013 product be released then? Many sources are pointing to The Partner Connections Event starting on October 20th as being the official launch event. Also many CRM Online customers have already received information on their organizations having been scheduled for updates to take place during Q4 2013, so I think it's safe to assume this to be the time frame for general availability of the next version of Dynamics CRM.