The big question on the minds of many Dynamics CRM customers and consultants has lately been: when is the Q2 2012 Service Update / R8 / Update Rollup 9 / "CRM Anywhere" update going to be released? Even though Microsoft has a policy of not announcing any official dates for new software releases beforehand, the agile release policy they announced back in Q2 2011 as well as the name of the update announced in February 2012 were all indicating that a release was imminent before the end of Q2 2012. Since then, we've seen Q2 turn into Q3 and no news has been shared regarding the planned schedule for the release. Until now, that is. On July 6th 2012 we finally received an announcement on what's going on. Let me quote the important bit for you:
On July 19th, as we committed, our Q2 release will include Microsoft SQL Server 2012 support, Industry templates and certifications for our online service. After listening to the feedback from our customers and partners we are delaying availability of Microsoft Dynamics CRM Mobile and cross-browser support. These were previously scheduled to be delivered in the Q2 2012 Service Update, and we now plan to deliver them in the service update scheduled for Q4 2012.
In short, "CRM Anywhere" has been postponed from Q2 2012 to Q4 2012. A six month delay on using Microsoft Dynamics CRM on Chrome, Firefox, Safari and any non-PC hardware. Well isn't that just splendid. I'm sure none of the Microsoft partners had started selling the Dynamics CRM product to any Macintosh shops in preparation for Q2 2012…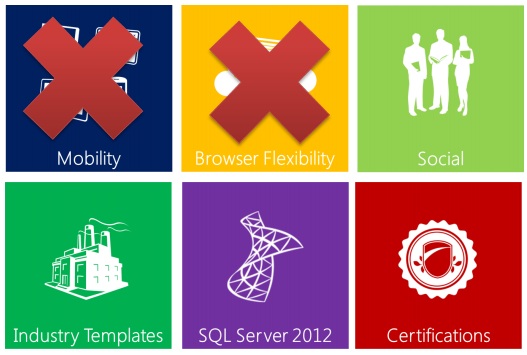 OK, I won't bash MS about this any more than the above comment, because I fully understand the situation they are facing. To be honest, I've had some serious doubts about how the cross-browser support would have played out if delivered in Q2 as planned. Even though the standard UI of an out-of-the-box Dynamics CRM implementation can surely be transformed into a standards compliant version if given enough resources, it's a very tricky situation when it comes to customizations and extensions created by the CRM ecosystem. VAR's, ISV's, sysadmins, basically anyone with access and know-how on tweaking Dynamics CRM to do what is required of it have been doing just that for several years now. As a result, there's a huge amount of unsupported scripts out there that simply would not work in the brave new cross-browser world.
Sometime ago (2 weeks ago, actually), the CRM team released a Custom Code Validation Tool that was designed to help these same people to resolve breaking script issues when upgrading to the next release of Microsoft Dynamics CRM. That's certainly a great help in proceeding with the task at hand, but unfortunately it was a bit too late when compared to the original target schedule of "CRM Anywhere". If you run the tool on even the official CRM Demo Builder environment created by Microsoft, it won't pass without "red" and "blue" errors either. In short, there are not very many environments out there right now that are capable of demonstrating Microsoft Dynamics CRM on an Apple OS X machine running Safari, at least with any impressive customizations and integrations to external data sources.
Would you have felt comfortable with releasing an update into the wild that would have wreaked havoc in many customer and demo environments? Would that have really conveyed the proper image of "CRM Anywhere" to the potential and existing customers? Most likely it would have not. There are times when you need to be able to announce breaking changes (like with current Windows Phone 7 devices not being able to run Windows Phone 8 apps due to a shared Win8 core architecture, as we've recently discovered), but probably this was not one of those times really. Ultimately, I think the decision that Dennis Michalis and his team has made must be the right one, as they certainly would not have made it lightheartedly. The business benefits of a CRM system must triumph the technological benefit of cross-browser support and the customers would presumably agree. Could the announcement have become sooner? Definitely it should have, but it didn't, and that's what we now need to adjust to now.
Still, one may ask how did we end up in this situations? It's a design decision Microsoft has made back in the days (as I've blogged about earlier) and now they're paying the price for it. So, that's how it is and that's just life. You could find some resemblance to the situation from Dynamics CRM ISV's and VAR's investing their efforts on developing Silverlight add-ons and then finding out last fall that Windows 8 Metro browser would not be supporting any plugins (including Silverlight, but excluding Adobe Flash). Life, as we know, goes on nonetheless as the ecosystem will find ways to route around the problems, much like the Internet as a fault-tolerant system was originally designed to do.
What's up with the mobile support delay then? After all, CWR Mobility has built clients for iPhone, Android iPad etc. and has been selling them throughout the whole 1H/2012. In fact, since the Microsoft Dynamics CRM Mobile product delivered and supported by Microsoft was only going to cover CRM Online customers, not on-premises or hosted environments, it's perfectly justified to present the question "what do you mean it's delayed until Q4"? What exactly did the mobile client announced in Q2 2012 Release Preview guide contain from a functional perspective that customers couldn't already acquire directly from CWR Mobility? If you ask me, this is more about adjusting the commercial story of "CRM Anywhere" rather than physical limitations, but we can of course hope that the Q4 2102 launch will bring us significant functional improvements as well as a more coherent process for customers wishing to deploy the mobile clients.
How about the rest of the mobile/social/local/etc. CRM market in general, will that just run over Dynamics CRM now as a result of this? I personally don't think so. If you look at some of the competing CRM products out there, we've seen Salesforce.com announce their Touch client for mobile and tablet devices already last September, but it remains in beta as of now. After all, it's quite easy to create great looking concepts of the way the social business of the future should operate, but very rarely is there a chance to start from a pure, clean slate. If you have no legacy processes and apps to worry about, you probably have no valuable, long lasting customer relationships either, which sort of undermines the whole effort.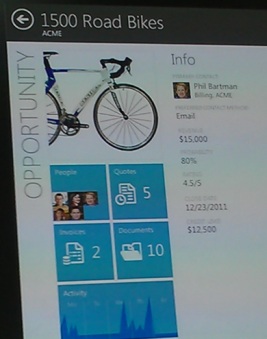 Let's remember another important aspect here: Windows Reimagined a.k.a Windows 8 is one of the biggest gambles Microsoft has ever made and it's due out in Q4 2012 (unconfirmed, as usual, but you get the drift). If the next Dynamics CRM Service Update is scheduled to be released in the same timeframe, then do you think that there would be any chance of receiving an actual Metro client for CRM at the same time? We can always hope of course, and the Worldwide Partner Conference 2012 to be held next week could well shed some light on this topic, one way or another. Personally I think it's a bit of a long shot still to make it into the same time frame as Windows 8, but even a preview/beta would be way cool. I guess we'll learn about that soon enough as WPC 12 kicks off.
Finally, if cross-browser support has now been delayed to Q4 2012, then I think there's one favor that we can ask from the Dynamics CRM product team: could you please enable also the customization part of the UI to be cross-browser by the time Q4 2012 Service Update rolls out? It's not that I have anything against Internet Explorer as such, but I think the #MSDYNCRM community deserves a tiny little upside in all this, don't you think?