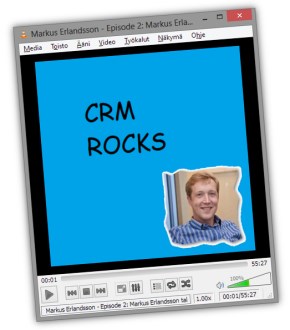 There's a large number of great CRM blogs out there, but how many Dynamics CRM podcasts do you know of? Well, here's one website you should definitely take a look at: CRM Rocks! Markus Erlandsson has started a new podcast series that focuses purely on Microsoft Dynamics CRM topics.
In the first episode Markus interviewed CRM MVP Gustaf Westerlund on the available tools and best  practices that any Dynamics CRM developer should be aware of. I had the honor of being guest nr. 2 on CRM Rocks and got to share my thoughts and observations on the latest and so far the greatest release, CRM 2013. Click here to access the podcast recording in MP3 format.
Some of the topics that Markus and me discuss during the podcast include:
The new UI: how will the new form design impact the user experience and what requirements does it impose on system customizers.
Business Process Flows: how are they different from the other process types and what do they mean in practice for the management of tasks related to business processes such as sales opportunity management.
Business Rules and Actions: what are the new options for code-free CRM configuration and where do we still need .NET developer resources.
No more ribbon: are we missing out on past functionality or are we actually better off in the end.
A world without popup windows: why is CRM now easier to learn for new users.
One CRM platform, many CRM applications: what the extended client support for mobile devices means for CRM usage scenarios.
Auto save = no more "post buttons": why you need to be careful when upgrading your custom business logic stored in scripts and plugins.
I personally enjoyed the discussion a lot and if anyone has 55 minutes to spare on listening to my ramblings on CRM 2013 then I hope you manage to get something out of it, too!