Do you enjoy reading news and thoughts from the world of Microsoft Dynamics CRM but wish that you could consume such content also in a "hands free" mode, by having someone talk about them rather than publish their thoughts in writing? Well hey: that's what podcasts are for! If you're looking for episodes to download to your favorite podcast app on your smartphone, then here's a couple of channels to subscribe to: CRM Rocks by Markus Erlandsson, started already back in 2013, and a newcomer from this year called CRM Audio, hosted by everyone's favorite CRM Tipsters: Joel Lindstrom, George Doubinski and Shawn Tabor.
Why did I bring this topic up then? It just so happens that I've done yet another guest appearance on CRM Rocks! Yes, you might remember yours truly from classic episodes like "CRM 2013 User Interface Changes" or "Who Is The Customer in Your CRM?" This time I had the pleasure of joining Markus in the studio and discussing a topic I had blogged about a while earlier, meaning The State of Microsoft Dynamics CRM in 2015.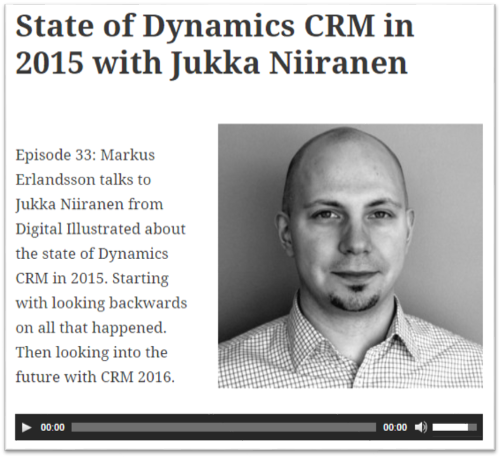 The topics on our agenda for this episode included the following:
Release cadence & CRM 2015 Update 1

Office 365 integration points with Excel Online, OneNote, Office Groups
The arrival of the CRM web client for Outlook (3 years after its announcement)
Cloud first: why is on-premises lagging behind

The new organization structure at Microsoft

Dynamics moving from the old MBS unit to Cloud + Enterprise
Why CRM product development needs better alignment with MS Data Platform
The remaining divide between Office and Dynamics

Microsoft & Salesforce partnership

New MS co-opetition strategy on devices, now also in the business cloud
What the rumored acquisition of Salesforce would have meant
The two horse CRM race and competitors pushing each other to innovate (and imitate)

CRM 2016 Release Preview Guide highlights

New modern API & next generation web client
Improvements in document generation and content search
Mobility with offline, task based applications
Yeah, so many interesting things going on in the world of Dynamics and only an hour to discuss them. So, what did Markus and me end up covering in our talk? There's only one way to find out and that is listening to the latest episode of CRM Rocks. By the way, if you have any thoughts on who you'd like to see (well, hear) make an appearance on the show and what CRM related topic should get some air time, then be sure to leave a comment either here or ping Markus directly.
Oh, I almost forgot to mention: I also took part in a recent CRM MVP Panel on MSDynamicsWorld.com with Chris Cognetta, Donna Edwards, Alex Fagundes and Gretchen Opferkew. We talked about some of the same topics as in the podcast, with a focus around the upcoming Dynamics CRM 2016 release and how to prepare for it, so in case you missed the live event, be sure to check out the recording available on YouTube.