Recently I was invited to the Demystifying Enterprise Innovation podcast run by AgilePoint. The podcast host Sharjeel Sohaib is interviewing experts from the field of digital process automation technologies and low-code platforms.
Our topics covered not only the Microsoft specific technology in Power Platform but also the broader market around low-code/no-code platforms. How are they impacting the lives of citizen developers? What should organizations do to drive the low-code tools adoption? Where is the technology underneath these platforms heading towards?
This turned out to be quite a comprehensive "state of Power Platform in 2022" type of a discussion. I guess that's just what tends to happen when someone asks me a question about it. Below is the mind map of what I planned to cover in the podcast episode (click for a bigger image):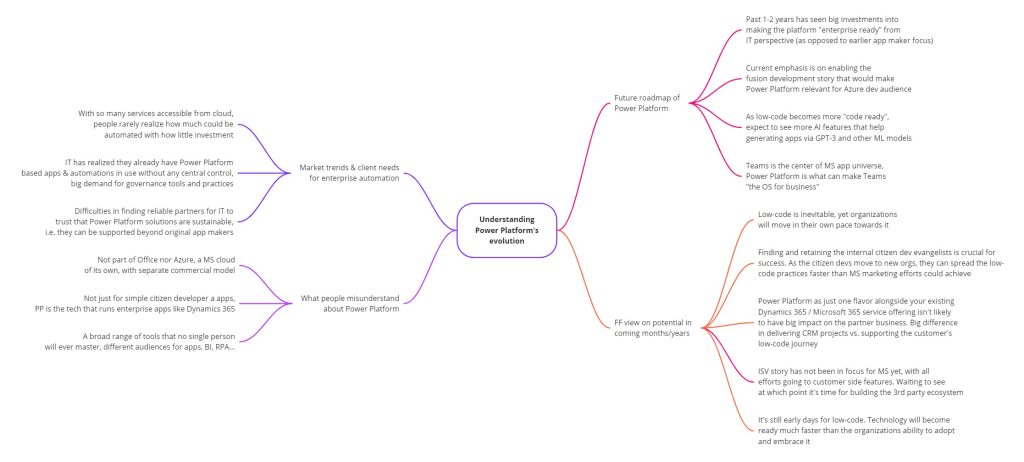 You can listen to the end result on your favorite podcast service – assuming it is either Spotify or Apple. The detailed show notes with a few quotes from me are available on the Transistor.fm page for the Demystifying Enterprise Innovation podcast.
Notes and thoughts
In the podcast episode we start by discussing my own journey as a citizen developer from 20 years ago, learning about CRM / marketing automation processes at a large B2C company (Nokia). This path then lead me to different Dynamics CRM consulting roles, and most recently going all-in with Power Platform in 2020.
Being on the citizen side from day one instead of starting my career in formal IT projects has been undoubtedly one of the key reasons why I've found the low-code movement to be so close to heart. To me, the ability to democratize code is a much more worthy goal than just trying to get sales people to enter more information into the CRM database.
Sure, such business apps may be the "what" but citizen development is the "why". The way Microsoft has managed to infiltrate the existing toolkits of these citizens by bundling Power Apps and Power Automate into Office 365 is the prime reason why things have moved along so fast in this space. Merging PowerApps with XRM 4 years ago is what allows them to still keep moving fast today, even as more complex enterprise IT requirements now need to be met when the apps originally built by citizen devs are becoming more & more business critical.
Despite of this move towards enterprise processes, bottom-up innovation is still what excites me the most. Grandiose digital transformation programs with their top-down agendas may have the big funding behind them, yet I believe the net impact from small apps built by citizens motivated to fix practical issues in their daily working lives is going to be greater in total. Teams as a platform is a story that may cause problems for us more experienced MS BizApps practitioners, and still this kind of simplification is definitely needed when you really want to scale low-code in practice.
Power Platform governance topics are where I spend the majority of my working days on right now. When delivering our Power Platform governance advisory services, I've seen how difficult it can be for the IT organization to get a handle on citizen driven apps and automations – at least if no one was there to educate them on how Power Apps & Power Automate administration works in practice.
This is not so much a challenge of the technology not being available. Rather it is the new roles and alignment of IT alongside the citizen developers that poses the biggest barrier for companies to feel safe enough to fully embrace what this corner of the MS cloud can offer them. The same gradual increase in maturity that has happened with Office 365, Azure, and also Power BI from the "power family" – all of it seems inevitable for Microsoft's low-code products, too.
This is why we're now seeing less new maker focused features right now and a bigger push for admin & governance capabilities in Power Platform. The next big target for MS is in formalizing the fusion development story for low-code, to get the professional developers on board this new way how customer organizations address the growing demand for digital solutions that can't all be met with custom code alone.
The ISV opportunity in Power Platform has not yet been a true focus area for Microsoft. Their emphasis has been on the internal transformation of organizations via citizen developer solutions. Yet many MS partners are naturally interested in the huge opportunity of the low-code movement. They'd love to become a part of this new ecosystem where the number of low-code developers is growing by 40% every year. However, there's a lot of work ahead before the mainstream wave of ISVs could be onboarded to Power Platform, both from commercial and technical perspective.
We can't just take the good ol' Dynamics business model and apply it to Power Apps since the platform is designed to empower bottom-up innovation distributed all across the organization (who's gonna do the top-down purchase decision on your project?). Neither can we make the Office style assumption that all these tools would be common to all information workers (justifying the premium licenses requires stepping outside the generic productivity story and quantifying the value from business specific processes). Experience from the other MS clouds is definitely a major advantage from an ecosystem insights perspective. At the same time, if you just sprinkle a bit of Power Platform technologies on top of your existing business model and projects, you can't expect to see any radical growth or shift in how your customers are engaging with you.
At Forward Forever we've been lucky to get the chance to educate several MS partner companies on the practicalities of developing apps for Power Platform in 1:1 coaching sessions over the past two years. It has affirmed our belief that this low-code movement is an infinite game where we aren't competing against other players. There's no sense in trying to be the winners once the final whistle blows. Rather we should do our best to keep the game going, helping the whole league around us to grow and build an audience (even a fan base) who wants to see us succeed.
There are no winners or losers in an infinite game; there is only ahead and behind.

Simon Sinek
In addition to advising customers and partners on how to succeed with Power Platform, we've also invested resources into building products on top of it. Our offering in this field has recently reached a point where our Sustainability Action Pack is now listed on Microsoft AppSource for everyone to see. It's a solution template that provides tools to drive environmental actions, make progress transparent and help organizations reach their social, environmental and climate targets (see SECAP).
Power Pages, Power Apps, Power Automate, Power BI – the whole MS low-code stack is being used when we've delivered the solution to municipalities in Finland. The big difference compared to Azure based applications, for example, is that the end product truly runs on the customer's platform. Modifying and extending our Sustainability Action Pack functionality can be done by business users – as long as they've got the willingness to learn how Power Platform works.
This might have been just marketing talk a decade ago. Today the reality is that the persons who are willing and able to use these low-code tools to shape your business applications are likely to be among your most valuable employees. They probably haven't been hired for this exact role, yet the organization should acknowledge the positive impact that they're able to achieve by adopting Power Platform tools and thus adapting your tools to deliver better business outcomes. Otherwise they may quickly find a new place to work where such evangelism is appreciated.
From the outside, as a consultant/advisor, we can only show you the direction to take. The real adoption journey for low-code relies on empowering internal personnel to build new things that create business value. Ownership of your own tools is the biggest difference in mindset when it comes to the traditional Dynamics business applications versus the new breed of Power Platform solutions. This is the revolution in low-code – the technology part is just evolution.
For more of my thoughts on Microsoft Power Platform evolution / low-code revolution, go and check out the podcast episode: