After the unfortunate delay announcement of R8 / Q2 2012 Service Update planned functionality into Q4 2012 (cross-browser and mobile, read it all here), we have some more upbeat news regarding the future of Microsoft Dynamics CRM. As of now there is no official document available on this information, but the screenshots from World Partner Conference 2012 (WPC) already give us plenty of new information and reasons to get excited about the road ahead. Without further ado, here's what the future releases of Dynamics CRM are planned to contain: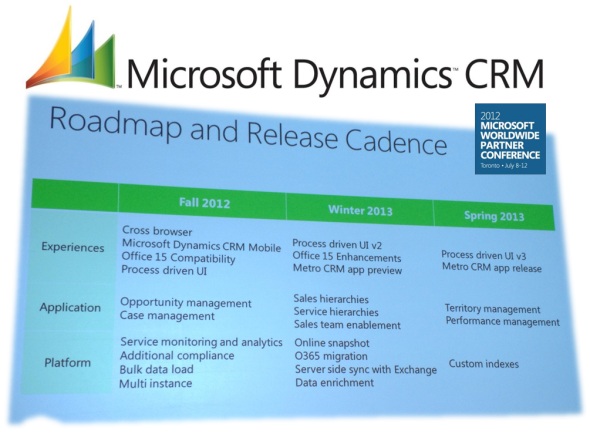 Click here for a bigger version of the picture. Now, let's break this roadmap slide down into pieces so we can better digest the contents.
No more references to "Q4 2012 Service Update", R9 etc. Instead we now have the functionality placed into Fall 2012, Winter 2013 and Spring 2013 updates. Whether this is the official new naming policy for Dynamics CRM updates remains to be seen.
"Refresh" UI coming to the browser client presumably in Fall 2012 update. These UI changes have now been merged with the cross-browser support, which was delayed from Q2 2012 to Q4 2012. The new UI will have a Metro feel to it, but it won't be an actual Metro app. Simplified appearance with less colors seems to be the way to go here. If you've seen the leaked Office 15 screenshots, that's probably where CRM is going as well.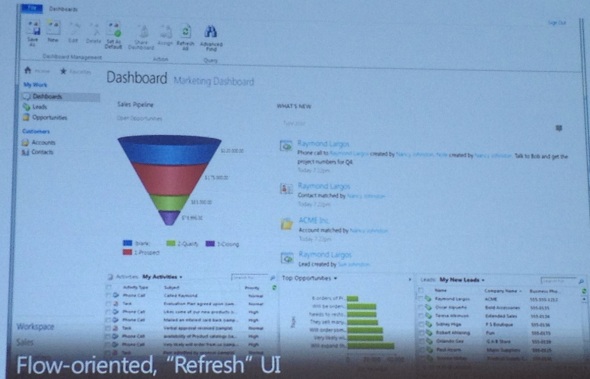 Office 15 (Office 2013) compatibility in Fall 2012, enhancements during Winter 2013. Since we don't have a beta of Office 2013 available, the future functionality is unconfirmed, but I'd imagine CRM to integrate with the Agaves feature, for example. Making the CRM client compatible with Outlook 2013 should be an obvious deliverable here.
Process driven UI, to be launched in Fall 2012 update and developed further in consecutive releases. The demo from WPC shows a persistent process "timeline" graphic on top of the lead form, which visualizes the stage the record is in and he information & actions required in that stage. What's interesting is that this process in the demo flows seamlessly from a lead record onto an opportunity record. This looks like a highly interesting new feature that will hopefully allow us to make workflow and dialog processes as well as status reason data easier for the CRM user to understand and interact with. Also notice how the lead entity form in the demo presents fields and subgrids in several columns side by side, with the form navigation collapsed.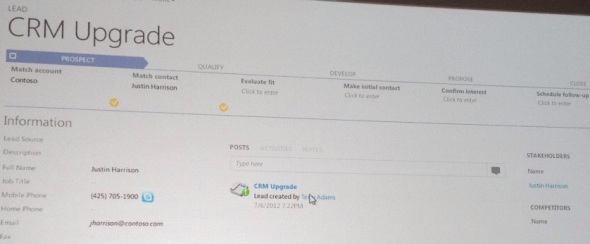 Metro CRM app preview in Winter 2013, full release in Spring 2013. Yes, the real deal, not just a generic Dynamics app we've seen in the keynote demos in Convergence 2012 and now WPC 2012. CRM reimagined.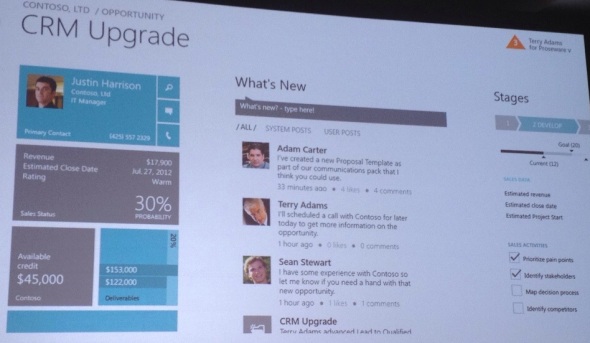 Application functionality updates. Opportunity management and case management enhancements in Fall 2012, presumably to go alongside the process driven UI. Sales & service hierarchies, sales team enablement in Winter 2013, providing some of the team functionality visible in the Metro demo. Territory and performance management in Spring 2013.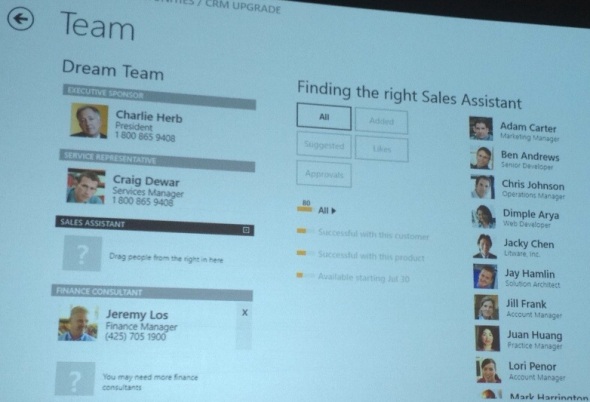 On the platform side there's plenty of new things lined up. For Fall 2012 we have:
Service monitoring and analytics (á la Office 365 Trust Center)
Additional compliance (more certifications for CRM Online?)
Bulk data load (improved data import wizard?)
Multi-instance (?)
Winter 2013 promises us:
Online snapshot (can we download a copy of CRM Online database as self service?)
Office 365 migration (is this the move from CTP to OSDP, finalizing the "better together" story for existing customers?)
Server side sync with Exchange (R9 rumor from Convergence now confirmed, no more Outlook client dependency)
Data enrichment (could be Azure Data Market, InsideView or something similar for filling customer details from external databases & networks)
And finally "custom indexes" for Fall 2013. A lot of questions arise from a single roadmap slide, but that's what the upcoming Q4 2012 Release Preview Guide will hopefully address once released during the summer.
A big shout out to CRM MVP Mark Smith from Magnetism for sharing the pictures he grabbed during the WPC 2012 sessions. You can find his WPC album on SkyDrive, filled with Metro goodness. I'll close off with another beautiful scene from the Metro CRM and start counting the days to when I can get my hands on a Windows 8 slate running the preview app.