While we wait for the official Release Preview Guide for the next Dynamics CRM update, let's add some more water into the rumor mill. I came across an interesting blog post titled "What's the status of Microsoft Dynamics CRM 2011 R8 (Update Rollup 9)" on the SyncraTec Solutions blog, which included the following piece of news:
The Safari browser is not going to work on the iPad.  Instead, there will be a "specific mobile companion application" that won't be available until post Fall 2012 Release.  This (device-) specific mobile companion application will be based on html5 and work with any of Windows 8, iPad, or other tablet-type devices (e.g., Android).
So, not only will we be getting a new Refresh UI for the browser experience as well as the inevitable Metro CRM app, there's also a third in-house CRM client in the works for mobile and tablet devices. Although the deal with making CWR Mobility's CRM client available with Microsoft's branding appears to be still in the works, this gives a whole new perspective on speculation for the reason why the mobile clients were delayed together with the cross-browser support. Why put the whole CRM Anywhere concept on hold just because the IE-specific scripts would have caused issues to PC and Mac users on an alternative browser? Well, seems like there's more to the whole "companion" client story than slide below from WPC 2012 would have lead us to believe.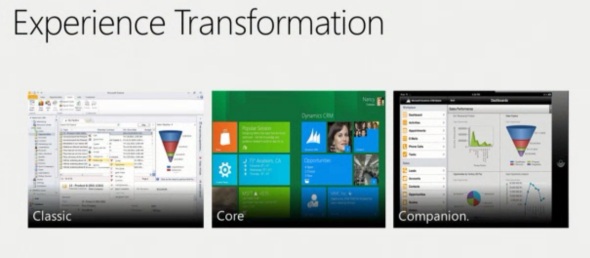 I've never been fully convinced that it's a good idea to use a similar CRM client app both on the small smartphone screen and the 10″ screen of a typical tablet device (read: iPad). The use cases for these devices tend to vary quite a lot, at least in my personal experience. The upcoming Metro UI of Windows 8 seems to fit very well with the tablet scenarios that aim to replace traditional laptops as the devices which you take with you to the meeting rooms and other temporary workspaces. However, there are currently zero tablets out there running Windows RT (at least in the hands of end users) and a growing number of iOS and Android devices. Since Metro will make many Microsoft apps exclusive to Microsoft platforms again, how do you capture the audience that needs a mobile CRM solution but doesn't want to replace all their hardware the very moment Win8 becomes generally available?
It appears now that this is a market Microsoft intends to go after, by building a HTML5 based client specifically designed for the smaller screens. Based on the above quote, we'll see an app that is platform specific, but will they take the same route as Facebook did with their iPad app and just embed a browser view into the UI chrome of iOS and Android operating systems? Or will there be more native features used in each platform, which would be the opposite approach to the responsive design paradigm that's become trendy with public websites nowadays? And what will remain as the domain of the existing iPad app that was promoted so much back in Convergence 2012?
Another question that arises from statement of "CRM on Safari browser will not work on iPad" is whether this means Dynamics CRM is not officially supported on that browser/device combo or if Microsoft will actually actively block the usage of the browser client on a tablet device? Earlier this spring the message was that the browser support matrix published would indicate which platforms would fall under Microsoft's customer support plans, but other devices like Android might still work OK. Although the Dynamics CRM browser user interface that has been designed to be used with a mouse would surely not be optimal on a multi-touch tablet, the initial reports from running the UR9 / R8 beta on the iPad Safari browser were saying the experience wasn't actually that bad at all.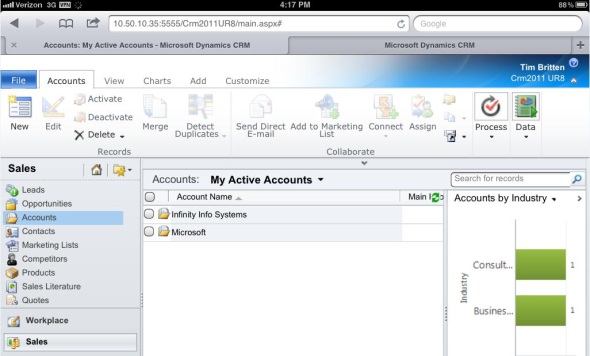 Returning back to the R8 discussion, we now have confirmation also from a Microsoft representative that the following features will not be published this summer but instead be delayed until Q4 2012:
Custom workflow activities on CRM Online
Activity Feeds solution update with view filters
Bummer. Many developers and ISV's were really waiting for the possibility to start utilizing custom code in workflow processes, but now with CRM Online still not supporting them and 2/3 of new Dynamics CRM customers choosing the Microsoft hosted cloud platform, there's not much opportunities to release commercial solutions with custom workflow activities until later this year.
Why the Activity Feeds update is not released either is difficult to understand. While testing the R8 beta the new filter features seemed like a very welcome addition that would surely make it easier to deploy Activity Feeds into the day-to-day operations of CRM users without worrying about how to get the users to follow relevant records. The only sensible explanation for this delay could be that Microsoft has decided to pull back some of their own feed functionality and try to merge them with the Yammer platform's capabilities. Given the relatively short time frame until Q4, I'm not sure how much integration could actually be developed between Yammer's feeds and the MS stack of business applications, but let's see how this thing develops.