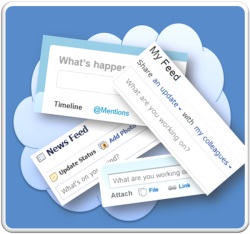 Call it a revolution, call it a bubble, call it what you want. One thing is for sure: social networks are not going away. Even though it still remains important to be able to manage and measure your sales funnel with the help of some tried & tested SFA tools, segment your customer database to build more effective target groups for campaigns, or share information on customer support enquiries across your helpdesk staff, this functionality will not be considered as important as it was during the last decade. In this new age of connected customers and empowered information workers, companies will be searching for applications and processes that go beyond what CRM has traditionally stood for.
Let's take a look at some of the recent news surrounding the world of CRM, to gather evidence of where we might be heading towards.
Takeways from #SFDC #DF11
On the last week of July, Salesforce.com held their annual Dreamforce conference in San Francisco. As a person working with Dynamics CRM for a living, it's a good idea to keep an eye on where the other CRM solution providers are focusing their development efforts on, and SFDC certainly is one of, if not the main competitor that Microsoft has their eyes on. In his opening keynote, Marc Benioff made it very clear where his team's focus is on, and that is the concept of a social enterprise. I'll spare you from the marketing flare and instead present a few screenshots captured from the presentation, highlighting the new feature announcements.
So, what's in the pipeline for Salesforce.com during the winter 2011/2012 then?
Contact profiles will be "social enabled" by default, showing public feeds from networks were your customers are present
Data.com, previously known as Jigsaw, will power the social data discovery and data import, in combination with D&B's database
Chatter Now extends the functionality from microblogging to instant messaging with presence information
You can invite your key customer contacts to specific Chatter networks, or even publish Chatter on the web as a customer service channel
Radian6's technology will monitor those customer complaints that are not targeted at your helpdesk, enabling you to jump in on the conversation
All of this follows you everywhere you go, as touch.salesforce.com promises to deliver a HTML5 client that'll make your iPad or smartphone a full-fledged social CRM control panel
Even if you leave away some of the over-the-top scenarios presented, like friending the Coke machine or having network routers tweet you on social networks, it's still clear that with all the promised functionality at your fingertips (once it's available and working in a reliable manner), the possibilities for you to design and implement new business processes will be dramatically expanded. Whether companies are able to make use of and, more importantly, make money out of these new possibilities is a different question, but it surely does push the boundaries of CRM as we know it.
Social CRM is where it's at
"Social" certainly is an attractive attribute to include in your product description these days. Gartner, for example, has predicted that the market for Social CRM would reach a total value of one billion dollars by the end of next year. Predicting the future with concrete figures is always a challenge, but it's even more difficult when people don't even agree on the definition of the market to be predicted. Several analysts have commented on Gartner's reports, starting from reminders that an SCRM market may not really exist yet, or they have questioned Gartner's choice of products included in their SCRM Magic Quadrants as including applications aimed at other functions than what CRM systems traditionally are about – managing customer information, that is.
Aside from the numbers, an important prediction that Gartner made is that the Social CRM market (however you define it) would begin to see a shift towards more integrated platforms over the initial point solutions that have emerged during the first wave of the social business boom. In the age of the cloud, both developing as well as buying and deploying new applications designed for addressing a specific business need can be lightning fast, compared to what the corporate IT projects were like a decade ago. This can easily lead to a situation where individual departments have gone and acquired "shadow" solutions to help them get started on participating in social media, monitoring the buzz around topics and measuring results of their actions. Now, the next step of tying all this back to the customer records in the company's operational IT systems will often be much more complicated than signing up for the new service initially. A quote from Gartner describes the situation further:
The need for integration will favor more-traditional CRM vendors that add social capabilities. Integration did not matter much when enterprises were just experimenting with social CRM," Mr. Sarner said. "However, companies are asking for the integration of social data with other customer data within sales, marketing and customer service processes, which will require the integration of social CRM with applications such as a knowledgebase for customer service, multichannel campaign management, sales force automation or e-commerce, Web content and Web analytic applications, master data management, and even back-office applications.
Sounds convincing to me. The first mover advantage is unlikely to be such that it would overshadow all "oldskool" CRM functionality and allow the new players to start building an empire from a clean slate. Gradually we will see everyone adopting the new social paradigm into their product offering, in one form or another.
Upcoming social features for Microsoft Dynamics CRM
We've already seen Microsoft lay out their roadmap for new features in the Statement of Direction whitepaper released in May 2011. "Microblogging, business activity feeds and social intelligence" is what we've been promised. During the WPC 2011 keynote we saw pieces of this type of functionality utilized in the CRM demo and now we have what appears to be the first official screenshot of the activity feeds leaked out into the open.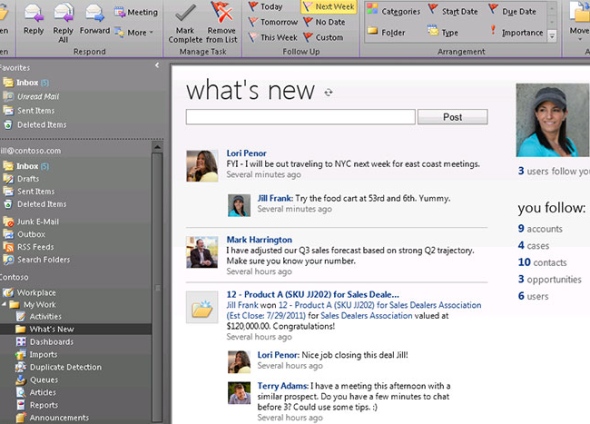 So, what we will definitely get is an activity feed of different events taking place inside the CRM database, combined with the ability to post updates and reply to posts. If you've used Twitter, Yammer, Chatter or any other microblogging app, you should know the drill by now.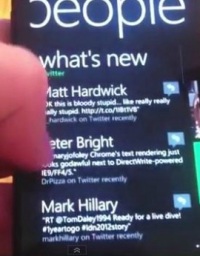 How about the social world outside the firewall? Traditionally Microsoft has preferred steering clear from committing to any specific 3rd party networks. For example, the Outlook Social Connector does not integrate with Facebook or LinkedIn out-of-the-box, instead you have to download a separate provider per each network (there's not too many of them, btw). With the release of Windows Phone 7.5 (Mango), Microsoft now appears to feel comfortable enough with the top 3 networks of Facebook, Twitter and LinkedIn, by integrating them right into the core of their product: the People Hub. Check out the picture on the left and tell me if you spot a slight resemblance in the two feed UI's… If this is anything to go by, I'm expecting to see the same three brands bundled into Dynamics CRM's default integration points.
As for the rest of Microsoft's social CRM plans, we'll need to wait and see if there will be any deeper integration to services such as social media monitoring or whether the Redmond folks simply decide to support and promote some of their partners' solutions more heavily. In the age of cloud & social, it's still all about developers, developers and developers, which is why a healthy ISV ecosystem remains a crucial asset to cherish.
My feed is your feed and your feed is mine
Not too long ago, Yammer was accusing Salesforce.com for being a copycat when releasing their Chatter product. Now at Dreamforce '11, the mascots for both companies were holding hands under the "Friends With Benefits" slogan of the campaign that announced integration between Yammer and Chatter. Well, you know what they say: keep your friends close and your enemies even closer.
Yammer does already integrate with SharePoint. By the time Microsoft incorporates the Activity Feeds into the core product of Dynamics CRM, I assume there will be a full API available for 3rd parties to tap into the event data of the feeds. Therefore I'm expecting that we'll also see Yammer providing a solution for Dynamics CRM integration.
Where does this feed actually belong to?
Looking at Microsoft's big stack of software products, it's not so very obvious where all this new type of social activity functionality should be built into. SharePoint is the collaboration platform, Lync is for unified communications and, well, CRM could be considered as the solution for managing interactions and processes related to customers. So, tell me then, what specific application will the Microsoft end-user be using when he engages in the types of activities that a Yammer user has already grown accustomed to? "All of them" is not a very good answer, because that leaves you without a name to assign to the activity. Without a name, you don't have a brand, and unless you have a brand, it's very difficult to make anything stick. Just like with CRM implementation projects, user adoption is the golden key which you will need for unlocking the door that leads to ROI from your social business initiatives.
Much of the functionality needed as the building blocks for a social enterprise is already included in Microsoft's portfolio today. The thing that is missing is the super glue to attach all the pieces together and make them really stick, i.e. work effortlessly in real life business scenarios. I'm not tallking about the "regular" glue, which in IT terms would mean configuration, customization, development and integration work. With enough skills available you can do great things with the stack already today and build the solutions needed. What the new, cloud-based players on the field of social business are promising is however a different value proposition: products built for the exact scenarios that companies encounter when dealing with their customer base in this world gone social. A solution you can just grab and start using.
It has taken Microsoft a massive effort to work its way into the current position, where their crown jewel productivity tools are available as cloud services you can subscribe to. The next shift that will need to take place is the integration of these services into a whole that is greater than the sum of its parts. Instead of just using traditional business applications like SharePoint or CRM, the new business processes for the social enterprise need a technical foundation that effortlessly extends beyond the corporate firewall and reaches the conversation that is taking place "out there". Not so easy to achieve with on-premises building blocks alone, but hey, that's when you gotta go "all in" to you know where…