Windows 8 is done. The bits will become available for download to MSDN, Technet, Software Assurance etc. subscribers in mid-August. Woo-hoo! The biggest OS update since Windows 95 will soon be at our hands and we can start to think who it will change our lives for better (new touch-optimized Metro apps) and for worse (clumsy desktop experience sans the familiar Start button).
Office 2013 is not quite done yet, but the preview version is available for anyone to download and experiment with. Although we don't get an actual Metro Office with 2013, there's plenty of reasons to get excited about the updates to this suite of business applications, which promises to deliver a seamless experience across PC's, servers and especially public cloud.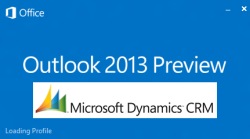 With all these shiny new MS apps getting released and the Dynamics CRM updates getting postponed to Q4, it's a good opportunity to test how we can mix the old with the new. In other words, how does Microsoft Dynamics CRM 2011 work with Outlook 2013 on a Windows 8 machine?
Before we begin with the experiment, it's important to note that neither Windows 8, Office 2013 or even Internet Explorer 10 have officially been announced as compatible with Dynamics CRM 2011. As the development roadmap slide from WPC 2012 showed, the Office 2013 compatibility will be delivered in the Fall 2012 (Q4 2012) update. Anyone who's tried CRM on IE10 also knows that there are still some minor quirks there, and since the big cross-browser update for Dynamics CRM has been re-scheduled to Q4, these may not be resolved before that time frame either. So, it's better not to deploy this combo into production use quite yet. Remember that unlike with all the other applications in Office 2013, you can't run the Outlook 2010 and Outlook 2013 versions side by side, but you have to choose one or the other.
The test drive
Does it work then? Given the right circumstances, yes it does, based on my experiment. You can install the Microsoft Dynamics CRM Outlook client onto a Windows 8 Release Preview machine with Office 2013 Preview. Below is a screenshot that proves it. I used the CRM Outlook client installer package with Update Rollup 6 and then applied the Update Rollup 8 hotfixes (check current UR status here: http://bit.ly/crmurinfo).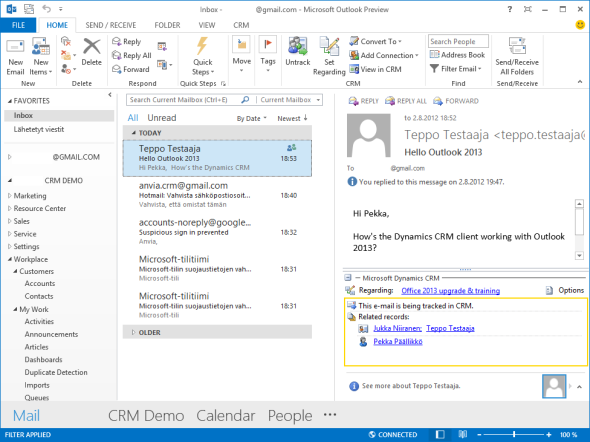 You'll notice the Metro style facelift has flattened the look & feel of Outlook 2013 quite considerably. Colors and icons have been removed from the UI components, so the CRM folders appear as a stripped down textual hierarchy. Also the "wunderbar" that's been present in both Outlook and web client UI's in the lower left corner is now a text based horizontal menu at the bottom, listing the CRM organization name alongside Mail, Calendar, People etc. Since the actual CRM add-in has not been updated yet, the icons on the ribbon as well as the related record pane below an email message appear just like they would on Outlook 2010.
If we navigate into the CRM solution, the screen becomes even more familiar looking. Some minor adjustments in the UI chrome inherited from Outlook 2013 as well as Windows 8 can be noticed, but all in all both the icons and layout appear in the 2010 style. How much of the graphics and contrast we'll lose in the coming Fall 2012 update remains to be seen, but I personally hope Microsoft won't go all monochrome like they did with Visual Studio 2012 beta (and received tons of feedback as a result, not all positive).
Opening a record form reveals a few glitches in the preview version. Most notably the monetary fields on a form are missing icons. The radio buttons and dropdown menus have a new look, which probably comes mainly from IE10 since we've now left the Outlook chrome behind when navigating to a pop-up window. One annoyance I encountered was the vertical scroll bar. Can you spot from the bar the location we're in on the page right now? Yeah, neither could I, since the shades of grey used there were practically identical. Some adjustments ahead, I'm sure. Apart from the graphics, all the usual functionality of the Outlook client appears to be working as expected based on my quick test drive.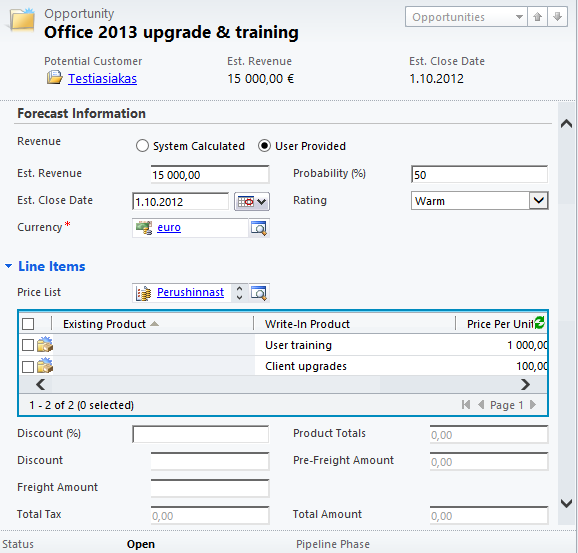 OK, not exactly all the functionality. As a part of the experiment I also wanted to test if it was possible to install the CRM offline components into Outlook 2013. At first I didn't encounter any issues after clicking the "Go Offline" button for the first time and installing SQL Server 2008 Express on the Windows 8 machine. Going offline appeared to be working as well, with the data synchronization dialog completing without errors, but then the troubles started. Outlook 2013 didn't seem to grasp the concept that CRM could be operational even without a network connection (the new, handy Airplane mode available in Win8) but rather prompted me to login instead of showing any CRM data. "Ok, I'll go back online then" I thought, except that I realized there was no way back. Outlook had eaten up the "Go Online" button from the ribbon and didn't seem to offer me any menu options out of the situation.
I tried a quick registry hack and disable/enable procedures for the client, but then I figured that this was as far as I'd get with my experiment without an uninstall/re-install of the CRM Outlook client. Considering the final bits for Windows 8 would become available in just a couple of weeks, I decided to leave it as it is and return back to the topic once I had an RTM version of the OS.
Mixed identities
Were there any other issues along the way? Yes, there was a big one. With my original Windows 8 user profile I was unable to login to any CRM Online organization. Even though I had manually enabled the Windows Identity Foundation (note: in Windows 8 you don't install the WIF package, instead you just turn on the feature), no credentials I gave to any organization or user were accepted. Instead I always got the following prompt: "Cannot connect to Microsoft Dynamics CRM server because we cannot authenticate your credentials". The related knowledge base article KB2666080 suggested this could be caused by the Windows Live ID not being verified, but that wasn't the case here.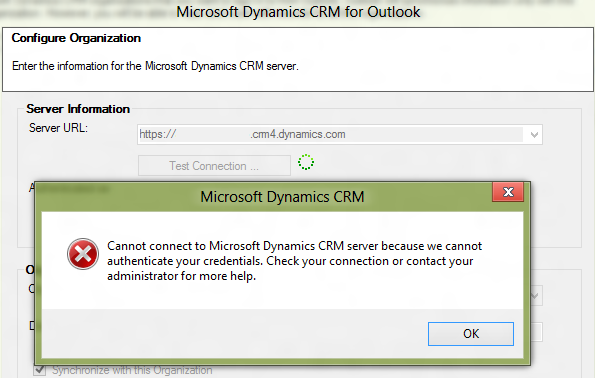 Eventually I decided to do the following: create a new local user for Windows 8 that was using the same Windows Live ID as the CRM user. Surprise: problem solved! Since starting from Windows 8 most users will be signing in to their PCs (or slates) using a Windows Live ID, nowadays known as the Microsoft account, this appears to be currently messing with the authentication mechanism expected by the CRM Outlook client.
On Windows 8 when you open up Internet Explorer, you are by default logged in to your WLID Microsoft account, which means the user has direct access to their Hotmail Outlook.com emails, Windows Store and other Microsoft hosted services. It's how the world already operates when it comes to iOS, Android or Windows Phone devices, so no big shock there. What this means for anyone who needs to work with multiple Windows Live… sorry, Microsoft accounts remains to be seen. If you're supporting customers in multiple CRM Online environments, you're already familiar with the agony related to switching between different accounts. While the intention of building a seamless experience for the end user is of course admirable, I hope the admin/developer experience won't degrade further as a result of pursuing this goal.
In a corporate environment you'd login to your Windows 8 PC with a domain account instead of a Microsoft account, but there's the option to connect a Microsoft account to you domain account (unless a group policy is blocking this). Although on Outlook.com (the webmail previously known as Hotmail) you can choose to manage linked accounts and access several inboxes across different identities, this doesn't appear to affect any authentication related services, so linking more than one Microsoft account onto a domain account doesn't seem to be possible.
Now that new CRM Online organizations are created by signing in with Microsoft Online Services accounts instead of WLID, it's good to note that a MOP account on Office 365 is not the same as a Microsoft account. However, you can create a new Microsoft account using your MOP account's email address, but then you don't get a new Outlook.com email address. Also, it looks like this doesn't help in getting past the CRM Outlook client authentication issue, even if you'd sign in to your Windows 8 PC with a [email protected] type of an address. So, some more work is still needed on the authentication front to make all the latest desktop software and cloud services from Microsoft play nice with each other. I've read that with an on-premises Dynamics CRM server connecting with Outlook 2013 is already working today with the preview releases, so don't let this put you off from getting your hands dirty on the Office 2013 preview.
Update 2013-01-13: I've written a part 2 of the article where I test configuring Microsoft Dynamics CRM 2011 UR11 organizations to connect with the RTM versions of Windows 8 and Outlook 2013. Read it here.