In celebration of receiving my second Microsoft Dynamics CRM MVP award today (thanks to the whole #MSDYNCRM community for your support!), I'm publishing an article series on the Microsoft Dynamics CRM 2013 Customization and the Platform Evolution.
For the regular readers of my blog this title may sound eerily familiar, and you are correct. This is indeed a re-release of my earlier webcast topic that I presented in May for MSDynamicsWorld.com. I've previously shared the links to the live recording and the slide deck, but this time I decided to put it all down in writing. I had a huge pile of speaker notes, so I tidied them up a bit and published them as articles on this site.
Why bother revisiting the same old story? Well, it all comes down to my own behavioral patterns and personal preferences. You see, even though there's an ever increasing number of webcasts, podcasts and other forms of streaming content published these days on highly interesting topics and shared all over the social networks I hang out at, I very rarely find myself actually consuming any of that content. Jeffry van der Goot nicely captured the underlying issue in his recent tweet: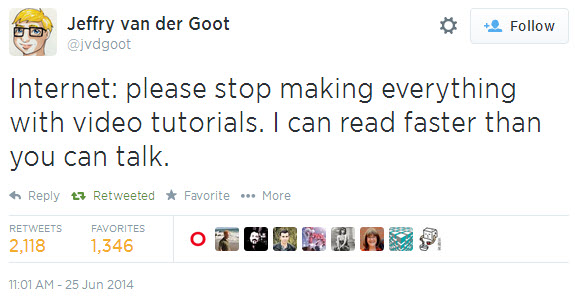 Recordings of people presenting on a topic that they claim to be experts in just isn't a very effective method of online knowledge sharing, if you ask me. Sure, you might be able to convey your message a lot more effectively with the help of audio and video, but the problem is that I, the audience, have a difficult time in assessing whether the content you've prepared really is worth my precious time (my precious free time in most of the occasions, I might add).
It's not just that all of us can read much faster than we can listen. It's the avenue of opportunities that a piece of information receives when it's put down in writing. The audience will be given the chance the glance at the content from a higher level, scan through for highlights that capture their attention and, most importantly, easily revisit any of the words transmitted in this form of communication. The content producer, the presenter of words, also gets to enjoy the same benefits when reviewing his or her own thoughts in a structured manner and designing the detailed message that is to be delivered. Last but not least, written content is infinitely more discoverable via the tools we all now turn to when in need of answers to our everyday questions – the mighty search engines.
Now that I've explained the "why" behind the content strategy, it's time to return back to the "what". The Platform Evolution article series is about exploring some of the key themes that are shaping the process of how we can deliver customized business solutions on top of the Microsoft Dynamics CRM 2013 platform. The discussion is broken down into four parts:
Hope you find something of interest in these articles, but as said, they are there for you to conveniently scan through and judge for yourself. Because life's just too short for sitting at your computer, watching long recordings that in the end didn't quite deliver what you had expected.